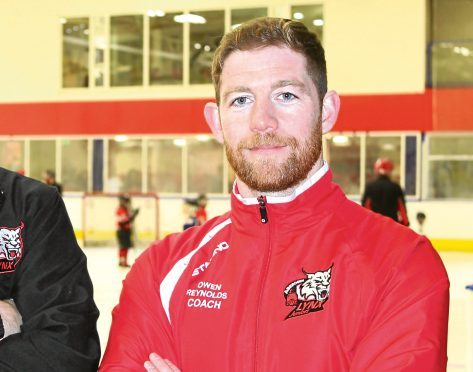 An early-season break in fixtures has recharged the Aberdeen Lynx, according to head coach Owen Reynolds.
The Lynx have had a dismal time in the inaugural Scottish National League Eastern Conference, in which they have one game left, losing six of seven so far.
A shortened pre-season saw the Granite City men start the campaign undercooked but, without a match the last two weeks, Reynolds, pictured, has been able get his team thinking positively again.
He said: "We've taken advantage of the break in our fixtures and had a bit of fun in training over the last few weeks.
"It's been back to serious business this week, though, in preparation for tomorrow's tie against Kilmarnock Thunder in the Scottish Cup.
"It's been a draining start to the season both physically and mentally, but we've had a chance to recharge so it'll be good to get going again this weekend.
"Kilmarnock have a small ice pad which brings its own set of challenges – games can change pretty quickly when there's not much room to move and shorter distances to cover.
"They also have a lot of young, talented players so we won't be taking anything for granted.
"Regardless of how close our results have been at the start of the season, we're on a losing streak so will be looking to put an end to it on Saturday.
"We also see the return of Ross McIntosh this weekend, who missed the start of the season due to working overseas.
"Ross is always a threat up front so his return is a welcome boost to the squad."