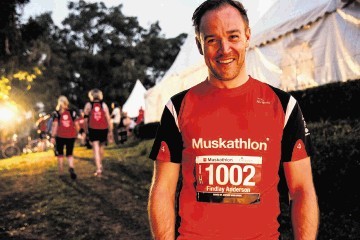 A Balmedie lawyer has raised thousands after completing a brutal marathon – in the 25°C heat of Uganda.
Findlay Anderson was part of a 23-strong team who took on the Muskathlon to support charity Compassion UK.
The 41-year-old raised more than £8,000 to build classrooms throughout the nation.
Anderson hadn't competed in anything beyond a 10K before the Herculean effort.
The marathon was arranged by international organisation 4th Musketeer, who co-ordinate endurance challenges in extreme conditions around the world.
Findlay's efforts started before dawn on May 26 at Lake Bunyonyi, which sits at almost 2,000m above sea level, finishing at the same point hours later.
The experience was an exhausting one but Findlay was glad to raise the bar to help kids around the globe.
He said: "The course was brutal, starting at around 5,000 feet altitude, it included 6,000ft of ascent in around 25°C heat.
"Normal marathon training couldn't prepare you for that.
"However, along every stretch of the course there were villagers and children dancing and singing.
"Some children ran with us several miles, even in their bare feet.
"It really spurred us on to complete the course."
Anderson, a lawyer with GE Oil & Gas in Aberdeen, has supported children for 15 years through Compassion UK.
While in the country, he also met four-year-old Darlene, his latest sponsored child, for the first time.
After meeting the youngster in her home, the 41-year-old spoke of the humbling experience.
He said: "Her home was no more than a wooden hut of around 10 by 10 feet which housed Darlene's mum and six children.
"There was no running water or sanitation system.
"We communicated through the local Compassion project staff and we discussed how things were progressing at school and at home.
"I will never forget that experience. It has changed my perspective, from supporting an unknown person who I infrequently write letters to, to helping this beautiful and vulnerable little girl.
"The whole experience has challenged me deeply and has opened my eyes to the power I have to make choices that can bring hope where there has been none."
As part of his fundraising, Findlay encouraged family and friends to sponsor a child and he raised around £8,000 to help the charity.
Darren Allwright, Compassion UK Muskathlon ambassador, said: "The money will be spent on the construction of five classrooms at a Compassion project in South-West Uganda.
"We're all ordinary people who have taken part in a life-changing and extraordinary event with a passion to see lasting change in needy communities around the world."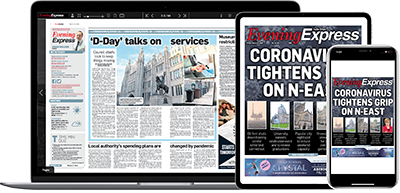 Help support quality local journalism … become a digital subscriber to the Evening Express
For as little as £5.99 a month you can access all of our content, including Premium articles.
Subscribe