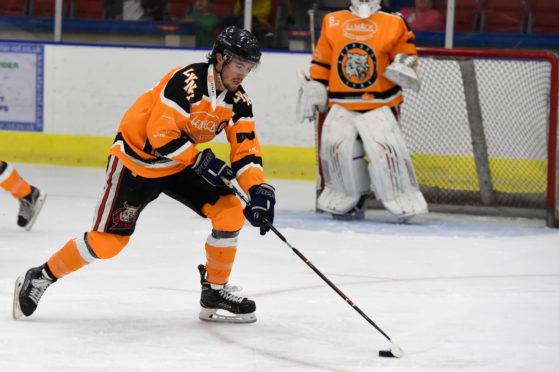 Aberdeen Lynx defenseman Christian Johnson is hoping his team can keep up their "intensity" against Kilmarnock this weekend.
The Lynx travel to take on the Thunder in the Scottish National League (SNL) after getting their campaign off to a flying start against North Ayrshire Wild.
Johnson & Co won 6-2 at Linx Ice Arena to follow up November 3's 15-0 Scottish Cup victory over Dundee Tigers.
Johnson said: "It was a great result for the team on Saturday against a strong North Ayr.
"North Ayr are a physical team and so are we, so naturally emotions run high and this can cause fights to break out. But it is all part of the game.
"We played to the system Owen has been implementing and it showed with a 6-2 win. Our penalty kill is getting stronger and stronger.
"Aaron Thompson had a fantastic game, his work ethic was brilliant and that can help spur the other boys on to keep working hard until the end of the game.
"Saturday was a good start to our campaign and we want to keep this intensity going into this weekend against Kilmarnock who are a tough team to beat on their own rink."
The Owen Reynolds-coached Lynx have turned things around this term, after a shortened pre-season led to a difficult run in the Stuart Robertson Cup – the inaugural mini league, also known as the Eastern Conference, played among the SNL's five east-based sides.
Against North Ayrshire Wild, they ended the first period 2-1 ahead, scoring via Mikulas Novotny and Ross McIntosh.
However, by the end of the match's middle period they had hit four unanswered goals to streak into a 6-1 lead.
Jordan Leyden, Aaron Thomson, Andrew Murphy and Jonathon Hogan all found the net.
The game in the Granite City was becoming increasing volatile, with both Durkacz brothers, Jack and Joe, as well as Fraser MacEachran, sent to the penalty box for fighting.
In the third period, the Wild got a goal back – however, the Lynx remained comfortable winners.
The last period also descended into chaos, with Christian Johnson, Joe Durkacz and Callum Smith all caught up in separate brawls as the clock ran down.