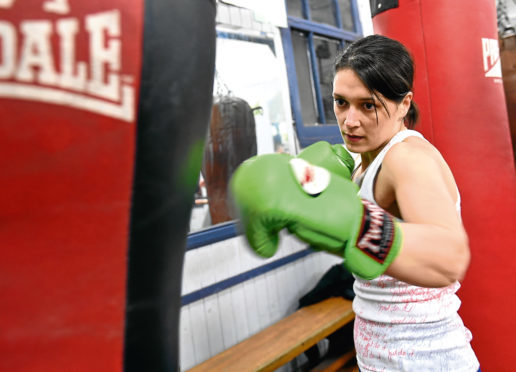 Aberdeen super-bantamweight Kristen Fraser is set to fight for a major title in the Granite City in November.
The 30-year-old's management team are in negotiations to finalise the championship shot and Fraser insists it will be a "massive" title.
Scotland's first female professional boxer, Fraser will bid for belt glory at the DoubleTree by Hilton Aberdeen Treetops on Saturday November 24.
Fraser extended her immaculate record in the paid ranks to five wins from five fights with a clinical seventh-round stoppage of Bulgarian Rozmari Silyanova in Paisley on Saturday.
Northern Sporting Club fighter Fraser said: "I am really excited about fighting for a title.
"If we get the one we are hoping for it will be massive and to claim it would be a great achievement.
"Once I get that it will put me firmly on the map and will be the start of the next chapter in my career."
Fraser has already broken into the European top 10 rankings and now sits in eighth spot.
For Aberdonian Fraser, securing a title showdown and the limitless opportunities a first championship win could open up are pay-back for years of sacrifice and hard graft.
She said: "I can feel it all paying off now.
"This title is going to be the big pay-off for a lot of dedication over the years.
"I have missed countless birthdays, nights out, meals and work events, which have all been pushed to one side to concentrate on boxing.
"Thankfully my wife is amazing.
"She has only ever known me to be like this so that is better.
"Every night I am training or doing something related to boxing.
"My only night off is a Wednesday, but I get a massage then.
"There are very few windows, but it is so worth it.
"I won't be able to do this sport for many more years so I am going to make the most of the time.
"Now I am coming up to my peak and going for a title will be the start of an exciting time in my career."
Successfully negotiating an eight-round bout opened the way for a title fight over 10 rounds in the Granite City.
Fraser had been threatening to stop an opponent inside the distance in a number of her opening four fights.
That inevitable stoppage arrived when referee Kenny Pringle stepped in against southpaw Silyanova in the seventh round at the Lagoon Centre, Paisley, at the weekend.
Fraser said: "Going into the seventh I was off my stool before the bell even rang to try to get at her.
"She was a very tough opponent and I got a headbutt on the chin.
"I started to get to her in the third round, but she knew how to keep about a half inch away, block punches and tangle you up.
"She was a southpaw as well which was another different aspect.
"When I came out of my corner for the first round and saw she was a southpaw I was not expecting that.
"I am fighting really strongly and picking my punches well so I just had to think a bit more.
"I had to remind myself not to walk clean into one of her punches because you change the way you move to avoid an orthodox right.
"After a couple of rounds I started to feel my way into it then started to break her down and bash her up.
"The referee just had enough by the seventh and stopped it."
Fraser came close to stopping Dominika Novotna at the Hilton Treetops on September 1 when securing an emphatic 60-54 win.
She said: "I was really pleased to get that stoppage (against Silyanova) because I was so close to stopping my opponent in the last fight in September as well.
"I have always been a tough fighter and like to get stuck in.
"In my first couple of fights up in Aberdeen I was taking my time and just getting used to it without really letting my hands go.
"But the last two fights I have been getting space and letting my hands go to push my opponent about the ring.
"To secure a stoppage while going that extra distance to the seventh round was good."
Training out of the Granite City gym in Aberdeen's Hilton, Fraser is confident she has racked up a level of fitness and endurance that will serve her well in title fights.
She said: "I am quite happy to have a look in the first couple and then I just break people down.
"As it goes on my timing and speed get better and improve with the rounds.
"The 10-round title fights will be exciting."
Fraser's career is now rocketing having racked up two impressive wins in the last six weeks. The upward trajectory is welcome after set-backs that led to fight inactivity for eight months from June 2016 to February 2017. First Fraser had a fight cancelled due to suffering from a chest infection.
Then her next fight fell through as opponent Claire Ciantar of Malta did not have the required MRA scan to meet the British Boxing Board of Control's criteria.
An MRI and MRA (which pictures blood vessels in the brain) is required by the BBBofC. Months later the fight did go ahead with Fraser defeating Ciantar 60-54 in February.
She said: "I can really feel the momentum building now. The end of this year and next year are going to be huge for me."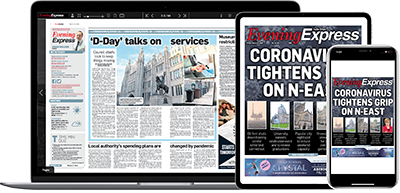 Help support quality local journalism … become a digital subscriber to the Evening Express
For as little as £5.99 a month you can access all of our content, including Premium articles.
Subscribe