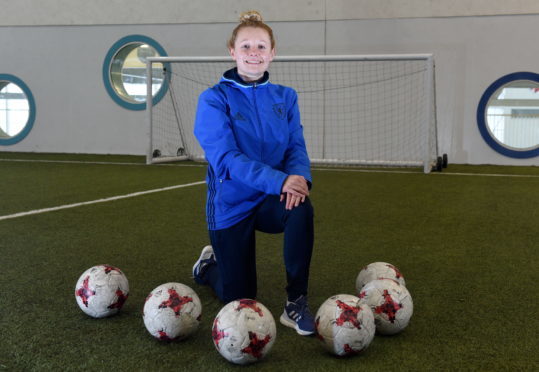 The Scottish FA's woman in the north-east has revealed participation has doubled in the last four years.
Culter's Jo Murphy, the SFA's girl's and women's club development officer, is responsible for getting more females playing football.
She said: "Participation has doubled in size in four years.
"Before that there was obviously growth, but I'd now see it steadily increasing every year.
"My role is to work with all of the clubs within Aberdeen city and shire.
"We've now got around 20 clubs that have girls and women's football provision.
"Some of them are connected to the boys clubs – for example, Stonehaven, whereas Aberdeen Ladies is a standalone club.
"We are trying to make community clubs and most areas of the city now have places where girls can play.
"In the last few years, we now have a pathway – Under-7s, U9s, U11s, U13s, U15s, U17s – so we're probably looking at 1,200 players within the area.
"The aim is to grow that.
"A lot of clubs started at the early age groups, getting the five or six-year-olds in, but once they've got older they've moved up the age groups."
Five clubs in the north-east now have the full pathway from kids' to senior football – Westdyke, Aberdeen, Stonehaven, Buchan and Deveronvale.
Murphy says that without "brilliant" buy-in from all 20 of the women's clubs in the region, things wouldn't be progressing as quickly as they are.
Despite those clubs being girls-only, the sports science graduate revealed talented female players are still encouraged to play with boys, something advocated by Scotland stars Kim Little and Rachel Corsie, as well as representatives from women's teams including Scottish Women's Premier League Two side Aberdeen Ladies.
However, Murphy's drive to grow the game doesn't begin and end with the club game namechecked in her job title.
She's also creating footballing opportunities for girls at school.
She said: "Along with Sport Aberdeen, we've just created the first secondary school league for girls in Aberdeen city. At the moment we've got six schools signed up for that. They play once a month.
"It's a league, but it's not 11-a-side, it's 7-a-side, to try to encourage girls to get involved.
"Before that there wasn't too much for girls (of secondary school age) to get involved with.
"At primary school level, I go into the schools and deliver taster sessions along with the Aberdeen FC Community Trust.
"But there isn't any specific girls-only school activity for that age group.
"Mile-end and Newmachar's primary school team play within the club set-up."
But what about other ways to get girls who've never kicked a ball before to try the game?
Only through feeding these youngsters into the club system will the north-east keep up its track record of producing international stars.
Murphy is at the heart of these efforts, with girls charged just £1 a session to get their first taste of the beautiful game.
She said: "We've got soccer centres. They started last year off the back of the Euros (which Scotland played at).
"It's a nationwide programme, where A-squad players are ambassadors for that.
"So we've got Kim Little soccer centres and Rachel Corsie soccer centres.
"We've currently got 10 running around the city and shire – there's the Sports Village, Northfield, Seaton, Inverurie, Mintlaw, Fraserburgh, Peterhead. There's quite a lot.
"That's given girls between five and 12 who aren't with clubs the chance to play.
"We've got 230 girls coming along to those sessions and it's almost the first step (into the game) with the aim to get them signed up with clubs.
"We'll hopefully get at least half of them to join a club."
Once girls have joined clubs and started to hone their skills, Murphy is also involved in the next stage – putting players forward for international selection.
The first stop is regional performance squads, which start at U12s and go all the way through the age groups.
Scotland's youth teams lie beyond.
Murphy said: "The standard of players coming through is brilliant.
"We just had four players selected for the U15s squad at the end of the month to play Wales. We've got two away with the 17s."
With regards to the adult game, Murphy has also committed to providing something for the women who don't have the option to train several times a week and play on a Sunday.
She said: "We have tried five-a-side leagues just to get women playing football but we've had to stop that because of numbers.
"It's something going forward we need to happen because there are a lot of women who can't commit to playing in a league or club but would maybe like a kickabout on a Wednesday night."
However, she recognises there are still improvements to be made in the north-east's still-amateur adult club game.
Professional contracts elsewhere in Scotland and across borders mean the top talent often leaves the region.
Those who remain, at Aberdeen Ladies or elsewhere, can train like pros – their SFA performance programme training, club sessions, plus games – for no financial reward.
Murphy says the north-east game still needs investment, which could take a while to build up.
She agrees with Motherwell chief executive Alan Burrows when he called for compensation to reward clubs for developing players good enough to turn pro.
Aberdeen Ladies are currently at risk of relegation from SWPL2, but Murphy reckons the big goal of the north-east game in the short term should be to get a team into the top-flight SWPL1 alongside giants like Hibernian and Glasgow City.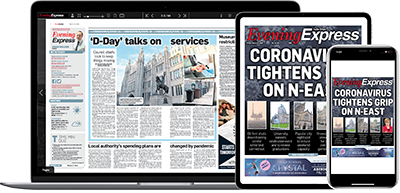 Help support quality local journalism … become a digital subscriber to the Evening Express
For as little as £5.99 a month you can access all of our content, including Premium articles.
Subscribe