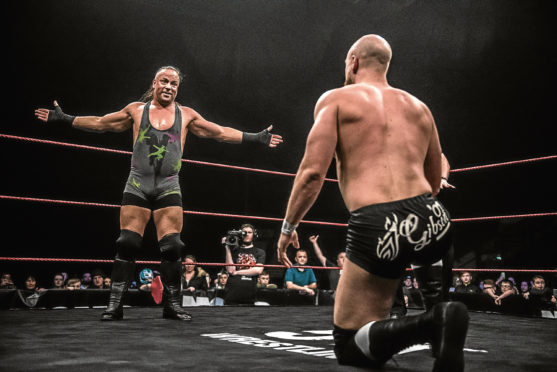 Wrestling legend Rob Van Dam today promised Aberdeen grappling fans they will witness the hottest ring action around when top stars come to the city next week.
Former WWE champion Van Dam and a host of ring greats will compete in 5 Star Wrestling at the Exhibition and Conference Centre on Thursday.
Other wrestlers confirmed include former WWE champion and two-time WWE heavyweight champion Ray Mysterio.
Also competing on the roster are former WWE inter-continental champion John Morrison, ex-WWE United States champion Carlito and reigning 5 Star Wrestling champion Jack Hager.
The action from the Granite City will be broadcast live on the FreeSports channel.
Van Dam said: "5 Star wrestling is the hottest, newest, fastest growing company in the United Kingdom.
"Everyone is very excited by it and there will be wrestlers like myself, Rey Mysterio and Chris Masters in action. We are talking about bringing a lot of guys I know over from the United States as well as many superstars from the UK."
Other wrestlers set to compete in the Granite City include Adam Maxted, Impact Wrestling's former American Football stand-out Moose, Joey Axl and top Scottish wrestlers Jack Jester, Kid Fite, Lou King Sharp and BT Gunn.
Van Dam won the WWE Championship at ECW One Night Stand in June 2006.
Now 47, he was renowned for trademark moves such as the Five Star Frog Splash.
Talking to the Evening Express from his California home, he said: "The fans in Aberdeen will see that I am still the Rob Van Dam they loved.
"Have no fear, you will also see the Rolling Thunder and I will be doing all the moves that I normally bring."
Van Dam made his wrestling debut in 1990 and entered World Championship Wrestling's roster two years later. He admits three decades of action is tough on the body.
He said: "I have been wrestling almost 30 years now and it has definitely taken its toll – on my body, but also my mind and spirit.
"I always said my body would hold up longer than my passion, and it did.
"I feel like I am a lot tougher than the other guys but I still have lots of bodily reminders of my career.
"Now I pick and choose when I leave home – whether that is wrestling, acting, I do stand-up comedy or whether it is an autograph-signing appearance."
Van Dam admits his ring action had been greatly reduced in recent years until the exciting prospect of 5 Star arrived.
He said: "5 Star kind of got me out of my house.
"Over the last few years I have done the minimum amount of wrestling, maybe less than 10 matches per year.
"However, 5 Star has so much going on and is such a great opportunity I feel I am back in the game again."
Did Van Dam, ranked the world's No1 pro wrestler in 2002, miss regular ring action?
"Not at all," he said.
"Most of my peers go crazy at home. Traditionally I have always gone crazy on the road and have always looked forward to being home and not travelling
"I live in California, it is my favourite weather and I have all my favourite things at my house.
"Fortunately, 5 Star take care of us so well. With 5 Star we wrestle one day a week whereas with WWE it was four or five days every single week."
Every 5 Star Wrestling show will be aired live on Freesports on Thursdays from 7pm to 10pm.
Still in the limelight, Van Dam accepts he remains a role model for a lot of fans and fellow wrestlers.
He said: "The more I talk to the wrestlers the more I learn how they were inspired by me as I have been wrestling for so long.
"Even people on the street, if they haven't watched wrestling in 20 years, I may still have impacted their lives.
"That leverage in society comes like a power to make people happy and do a good thing.
"I recognise the influence, nevertheless I am a real person."
For ticket details go to www.5starwrestling.co.uk