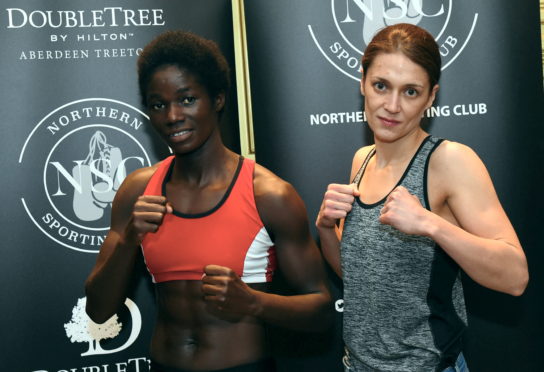 Aberdeen's Kristen Fraser hopes to land a blow for women's boxing and the LGBT community by landing a historic Commonwealth title.
The 30-year-old will tonight bid to become the first Scottish female boxer to land a Commonwealth title when facing Malawi's Ellen Simwaka for the vacant bantamweight belt.
Undefeated Fraser will tonight wear Rainbow Laces in a title fight at the DoubleTree Hilton to support the campaign for lesbian, gay, bisexual and transgender equality in sport at all levels.
Fraser believes it is important she is visible as a gay woman to act as a role model, as "you can't be what you can't see".
She said: "I am out. I am married, I have a wife and I am very happy.
"For people who are LGBT, we need to be visible.
"I have got a small platform to enable me to do that.
"I am very open. Creating visibility around LGBT, these things are important to me.
"To be where I am at the moment is a small opportunity, but it's one for me to say I am here, I am a woman, I am gay and nothing is happening to me that is bad.
"It is all about visibility and progress. You can't be what you can't see.
"It is the Rainbow Laces campaign and I will have rainbow laces on my boots tonight and will be supporting that."
Fraser is known as "TFE – The First Ever" in relation to her trailblazing role as Scotland's first female professional boxer.
She has seamlessly made the transition to the paid ranks and boasts a flawless record of five wins in five fights. Having boxed for more than a decade, Fraser insists she has never encountered discrimination within the boxing fraternity over her sexuality.
She said: "I have quite honestly never experienced homophobia in this sport.
"That will probably surprise people, but I have never experienced homophobia or seen homophobia in a boxing gym.
"When you are in a gym you are a boxer and no-one cares what you are. You could be polka-dot for all anybody cares.
"It has never been an issue for me."
Fraser insists there is a mutual respect within boxers regardless of sexuality because of the understanding of the sacrifice and commitment needed for success, and the risks and bravery required for anyone to venture into the ring.
She said: "It takes a lot of guts to go into a boxing gym, which can be quite an intimidating place if you have never been in one.
"It takes all your heart to do your training and actually get in the ring no matter what level you are at.
"No matter what struggles you have or how you look, there is respect between each other that everyone has.
"Everyone has their own struggles. That might be just trying to get through three rounds without blowing hard.
"Everyone can remember being there and you are not going to discriminate against that person.
"There is a respect between everyone in the boxing community as it takes a lot to do what we do."
Fraser will compete over 10 rounds tonight for the first time, while former WBF International title-holder Simwaka has three previous 10-round title fights.
Simwaka's last fight was for the WBF world title in August, losing to a points decision. Fraser said: "This is a well-regarded title and fighting for it is a combination of everything I have done so far.
"If she wants the title she will have to stand and fight me for it.
"And I just hope she has a good chin if she wants to do that.
"It will take some trying to get that title from me.
"She is used to this weight and I am stepping down a weight.
"Ellen has also had a title in her hands so is ahead of me in a lot of aspects. However, I don't think she knows what she has got herself in for."
Simwaka boasts a professional record of seven wins, four losses and two draws. Fraser anticipates a barnstorming battle in the top-of-the-bill title showdown.
She said: "I think it is going to turn into a bit of a battle.
"The one thing we know about Ellen is that she is game, she will not lie down.
"That always makes for a good fight. I love a good fight, I love a good tear up.
"There are times when you need to box and need to be technical, but my favourite thing to do is stand and fight.
"So if that is what she wants, bring it on."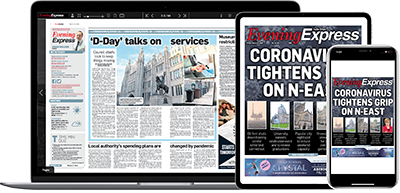 Help support quality local journalism … become a digital subscriber to the Evening Express
For as little as £5.99 a month you can access all of our content, including Premium articles.
Subscribe