An Ellon duathlete has won European gold.
David Horne finished first in the age 45-49 male AG sprint division at the European Championships in Ibiza.
The sprint division requires athletes to run 5km before a 20km cycle and another 2.5km run.
Competing for Great Britain, the 47-year-old beat out around 40 duathletes from across the Continent to top his age category.
Of his route to the European pinnacle, David said: "I've been doing duathlon about seven years, since 2011.
"When I was at uni I did a lot of running. I then left uni, carried on for a few years and stopped all through my 30s and basically sat on the couch and drank too much beer.
"Then my neighbour suggested we do Ride the North, and after that I needed to find something else to do.
"Duathlon mushroomed from there – I found I was getting better and better."
David says he now feels like taking a rest after training intensely all year for the Europeans – with next season's big target a first podium finish at the British Championships.
The oil and gas industry project engineer would make his son something to eat in the evenings before his daily sessions.
With only a Monday off, he racked up 12 hours a week around his job and family commitments, something he said required him to manage his time carefully.
David was quick to thank the sporting community in Ellon for helping him succeed.
He said: "People don't realise how well structured it is.
"I train with Newburgh Dunes running club – without the enthusiasm of Glen Chalmers the club wouldn't operate.
"I'd also like to thank Becky Rose at Studio 34 for my strength and conditioning, as well as Ythan Cycle Club."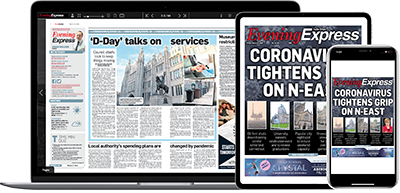 Help support quality local journalism … become a digital subscriber to the Evening Express
For as little as £5.99 a month you can access all of our content, including Premium articles.
Subscribe