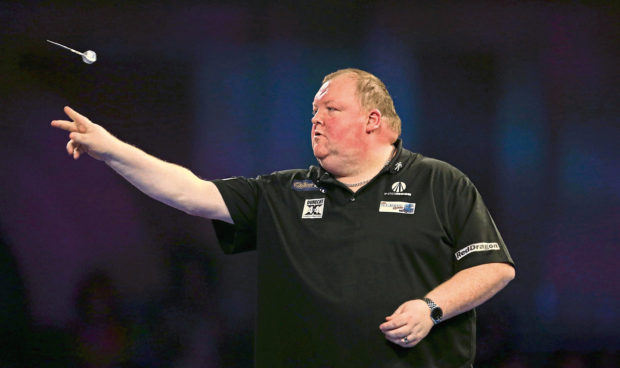 John Henderson says playing in the Premier League in Aberdeen tonight will serve as inspiration to qualify for the event in years to come.
The Highlander is a guest player in round five of the prestigious tournament and will face the world's best in Michael van Gerwen at the AECC this evening.
Hendo, the world No 20, is facing the world No 1 and world champion due to fellow Scot Gary Anderson pulling out of the Premier League with a back injury.
To replace the Flying Scotsman, the PDC decided to draft in guest players or "contenders" for the first nine weeks of the Premier League.
Henderson is going to savour his match with van Gerwen and in the future he hopes to push futher up the rankings and gain an invite to the full tournament.
The Huntly thrower said: "It's the last game of the night so the crowd will be right into it and it will be a good occasion.
"I've sat on the sidelines watching it in Aberdeen and when Gary Anderson walks on the noise is immense.
"I'm hoping it might even be a little bit louder on Thursday, being the local lad.
"It will be a great experience and I'll take a lot from it. Hopefully in years to come I will get there on merit and play in the Premier League again.
"Every player would love a crack at the Premier League.
"It's not something I have thought about in terms of setting targets and thinking about it a lot.
"I always just take it one tournament at a time. When it comes to the big tournaments after the World Championships at the start of the year, you are thinking about the World Matchplay.
"Then you're thinking about the World Grand Prix in Dublin and then the World Championships at the end of the year.
"If I was lucky enough to win one of the big TV events then the Premier League might come calling.
"But I've never actually given it any thought. If it happens then it will be great.
"I've got this opportunity for one night and I just want to enjoy it and hopefully in a few years to come I'll be there on merit.
"Once I have experienced playing in the Premier League that will make it a goal of mine and give me an appetite for more."
Van Gerwen is a fearsome opponent for Henderson.
The Dutchman is the reigning Premier League champion and three-time world champion.
However, Hendo insists he has no fear and can take confidence from their last meeting in a TV event – which he won at the World Grand Prix in October 2017.
He added: "The fear factor around Michael has gone a bit – but he is still the man everyone wants to avoid in any tournament.
"The last time we played on TV I was fortunate to win that game at the World Grand Prix, so I know what it's like to beat him on the TV stage.
"He lost last week to James Wade in the Premier League and had a poor UK Open by his standards.
"He will be out to put that right and maybe unfortunately I am next in line.
"I have nothing to lose, it's a one-off night for me so I'm just going to go out and try to give him a good game and see what happens."
After being knocked out of the World Championships in the third round in December Henderson has been pleased with his form in 2019. He's had a number of good runs in Players Championship events and said: "I've been playing well, in six Players Championship tournaments I've had four quarter-finals and two second rounds.
"So I'm getting more consistent at reaching the latter stages of tournaments. I'm seeing the rewards of the practise I'm doing at home.
"I was always maybe making a quarter-final in every fifth or sixth Players Championship event.
"But now I'm getting more consistent to the form, which has been good since the World Championships.
"I didn't play that well at the UK Open at the weekend and lost 10-5 to Michael Smith, but Michael is a good player and hit a lot of doubles so it was tough."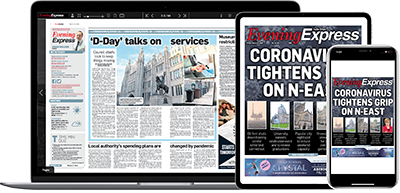 Help support quality local journalism … become a digital subscriber to the Evening Express
For as little as £5.99 a month you can access all of our content, including Premium articles.
Subscribe