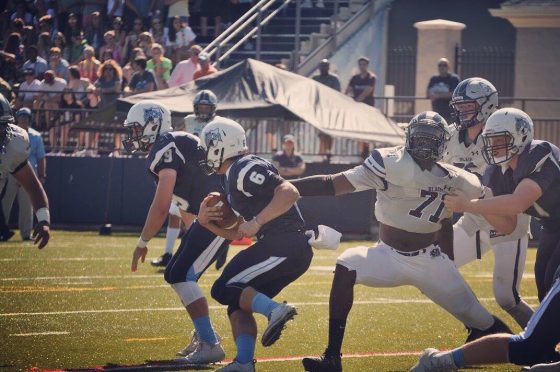 A 17-year-old who grew up in Westhill could one day be playing in America's National Football League.
David Ojabo moved to Aberdeenshire from Nigeria's Port Harcourt 10 years ago and now has nine American football scholarship offers to division one colleges in the US, including New York's Ivy League institution Columbia University.
Aged 14, Ojabo, who now goes to high school at Blair Academy in Blairstown, New Jersey, was a pupil at the International School of Aberdeen and it was there he was encouraged to take up a different sport – basketball – by Canadian coach Andy Field.
The teenager said: "They said I should take up basketball, because of my height. They already knew I was quite athletic, because I ran a bit of track."
Field, who is quick to point out Ojabo's "humble" assessment of his natural talents, is less inclined to play them down.
He said: "I have been coaching basketball for over 10 years.
"David's athletic ability is like nothing I have ever seen.
"He's bigger, stronger and more athletic than any player who's come through ISA."
On evidence, Field's analysis seems to be on the money – Ojabo progressed quickly, playing for his school, then local side Grampian Flyers and Scotland's Under-14 and U16 sides, where, according to Field, he was the "best player". The coach encouraged Ojabo's desire to finish secondary school in the US, while pursuing his athletic ambitions, even writing to reputable high schools on his behalf.
The teen said, back then, he was playing basketball every day after school, as well as making trips to train in the International School's gym on Saturdays to work with weights.
Ojabo, who is a small forward in basketball, said: "Andy said I should be taking it to the next level and looking for a school that would give more athletic opportunities.
"He suggested east coast, because that's usually where the money is at in terms of financial aid, jobs and the Ivy League.
"You apply for the school and then tell them what you're going to bring to the school. Based on that they'll offer you a scholarship.
"I was 16. I applied for maybe three or four.
"The ones that showed the most interest – you've got to look at the rosters, because if they have a lot of seniors about to graduate, that's when you'll get to play. Blair was perfect."
The next stage was for Ojabo to visit the US with his parents, who were concerned the move could affect his education, but any fears were soon allayed – and the friendliness of the people stood out to him.
He said: "I went on a visit with my family that summer and decided that was the place I wanted to go.
"My first few days it was a different atmosphere to Scotland. Scottish people and Americans are just different.
"Scottish people are more reserved, they mind their own business, but Americans are very lively all the time. I got here (to America) and a lot of people knew my name already."
Ojabo said other teens in the north-east should pursue their athletic dreams in the US and their parents shouldn't be concerned about their education suffering, because playing sports at American schools is often dependent on grades.
Although he was initially given a scholarship – his parents still have to contribute to his expenses – as a dual sport athlete, to play basketball and football ("soccer"), it is American football where the teen discovered his startling potential.
He said: "I got here and I didn't get much (basketball) playing time, because there were at least three seven-footers on the team.
"I thought 'next year will be my year', so in the off-season I did track in the spring.
"Coaches saw I was fast and strong – I'm 105kg, six-foot-six and ran an 11-second 100m.
"They said 'this is the perfect body for football, please try it out'. My parents were sceptical, because of the contact and the injuries, but it all turned out for the good."
This is an understatement of Ojabo's rapid rise in his new sport. At this point, having played American football for less than a year, Boston College, Columbia, Connecticut, Duke, Minnesota, Rutgers, Syracuse, Temple and Virginia have all offered him scholarships starting next year.
These National Collegiate Athletic Association division one colleges are so called because they are recognised as offering the highest level of athletic education in the US, and many of their players reach the upper echelons of their sports.
Ojabo, who plays as a defensive tackle or defensive end in American football, said: "I went back to Scotland in the summer, but ended up cutting it short because I got invited to visit two division one colleges."
He accepts it's possible he could become a star of professional American football, but is trying to stay grounded, while keeping his North-east past at the front of his mind.
He said: "I'm pushing all the way (to the pro ranks), god-willing, provided an injury doesn't happen.
"But I'm also chasing a business degree.
"I think I've got potential to go pro and all these coaches have been telling me they want me to be the first Scottish player to go pro in football.
"One thing that's really bothered me over here is people saying 'you're from Scotland? Where's that?', so I want to give Aberdeen and Scotland recognition.
"That's where I say I'm from, over Nigeria."