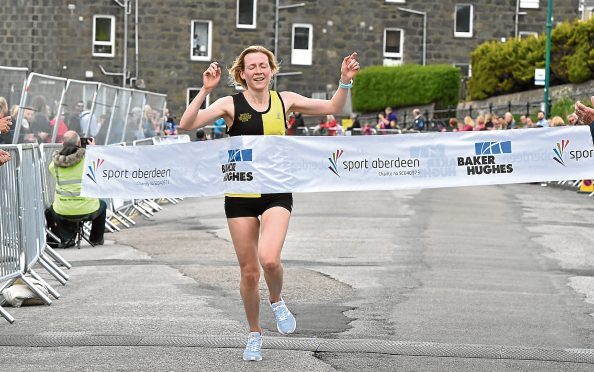 Aberdeen Baker Hughes 10K women's champion Fiona Brian is contemplating a fast marathon performance later this year.
The Metro Aberdeen runner showed sparkling form in the 30th anniversary 10K to take the title for the third time in four years.
Brian was engaged in a battle with 2016 winner Nicola Gauld (Aberdeen AAC) for two-thirds of the way before breaking clear to win in 36:17.
Gauld, the 2012, 2013 and 2016 champion, suffered from a severe stitch and was overtaken in the closing stages by Fiona Thompson (Central AC).
Thompson, who won the race in 2008, recorded 37:15 with Gauld 21secs behind.
Brian, who was beaten by only 18 men in the field of 3,190 competitors, was pleased with the result.
She said: "I ran with Nicola for a long way but I was just concentrating on my own performance. I felt quite good then I noticed she began to drop off after about 6K. I'm not sure what happened but I just carried on.
"My legs had felt quite comfortable for most of the way, but over the last few kilometres, when I was running into the wind, I felt a bit heavy and the hill near the end is always a killer.
"I wasn't sure how much of a lead I had, but I got a few clues from people standing watching.
"This is the fastest time I have run on this course, so I'm very pleased."
Brian's performance showed that she has recovered from last month's London Marathon in which she led her club to the British and Scottish women's team titles when setting a personal best time of 2hr 53min 50secs.
She's now considering an autumn marathon but has a few other objectives in mind before then.
She said: "I might do the Metro Aberdeen Beach 10K in June and I have the Great North Run half marathon at Newcastle in September.
"I'll probably fit in a few other races over the summer as well.
"The Great Aberdeen Run is one I'm looking at although I'd probably do the 10K there rather than the half marathon as it's just a few weeks before the Great North Run.
"I'm also thinking about an autumn marathon but I've missed the closing date for some of them.
"My husband Tom is doing Chicago in October but I'm too late to enter, so I might look at Frankfurt although I haven't made any decisions yet.
"I'd certainly like to try another one this year and aim to run under 2:50, but I guess it depends how things go over the summer."
Brian also spearheaded a Metro victory in the women's team competition at the Baker Hughes race.
Claire Bruce was the second scorer, finishing fourth in a personal best time of 37:55, while Brian's London Marathon team-mate Jennifer Elvin was the third counter, placing sixth in 39:16.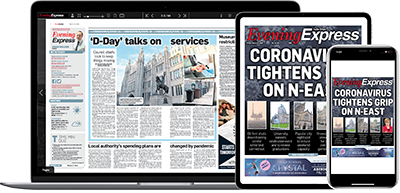 Help support quality local journalism … become a digital subscriber to the Evening Express
For as little as £5.99 a month you can access all of our content, including Premium articles.
Subscribe