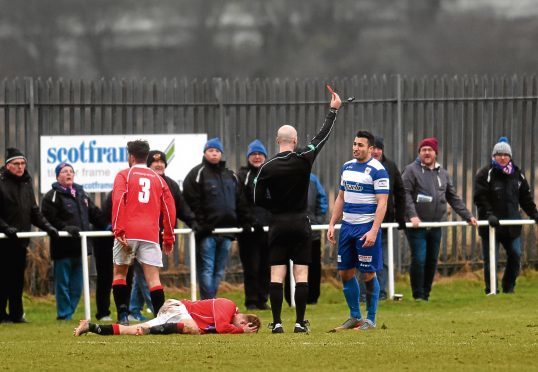 North-east interest in this season's national competition came to an end as nine-man Dyce lost out to Irvine Meadow.
The game with the Ayrshire outfit, at Ian Mair Park, was finally concluded at the seventh time of asking.
The home side dominated for the opening 65 minutes and it was only after they lost two men, following the dismissals of first Jamie McAllister and then Tom Yeats, that the visitors began to dominate.
Meadow took the lead after 70 minutes thanks to a James MARKS header.
And the same player ended the home side's resistance when he ran 30 yards before firing a great shot into the top corner.
Dyce assistant manager Murray Rattray was philosophical after the match.
He said: "It was pretty disappointing, to be honest.
"Not having played for so long, and then having a poor result in Banff in midweek.
"I was delighted with the way the team performed and we were the stronger, fitter side for the majority of the game.
"They offered very little as a threat until we went down to nine and even when we were just one man short, I felt we still had a great chance.
"Adam McNamee was getting great balls in from the right hand side and causing them real problems.
"It was a good reaction from the midweek match as we were solid and robust and didn't allow ourselves to be bullied.
"For the first red, their player stands on Jamie's foot and he pushed the lad away who goes down like a sack of potatoes.
"Then Tom goes for two yellow cards with the second one in particular really soft.
"It's a shame as I think the ref was conned but they get to take confidence from the two-man advantage and get their goals.
"While it wasn't the result we wanted, the performance was good and in some ways, it's good that the game is out of the way.
"We've been waiting so long for it to be played, not knowing when, or even where, it's going to go ahead. It's good it's behind us now and we can concentrate on the league.
"We have two big games coming up now against Hermes and Banks o' Dee, not the ones we would have necessarily chosen but you have to take what you get.
"Hermes on Saturday will be tough, they're always solid and well organised.
"But it's one we're looking forward to."
Dyce …………………. 0
Irvine Meadow ….. 2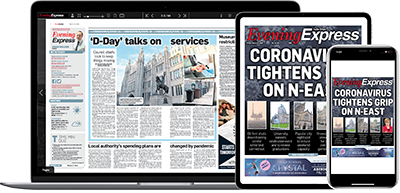 Help support quality local journalism … become a digital subscriber to the Evening Express
For as little as £5.99 a month you can access all of our content, including Premium articles.
Subscribe