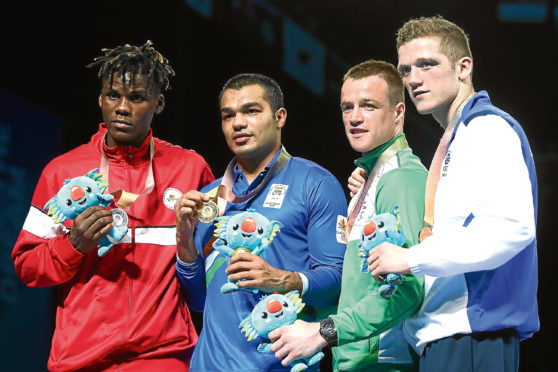 Commonwealth Games bronze medal hero John Docherty has turned down offers to turn pro as he is focused on securing Olympic medal glory.
The 20-year-old Byron Boxing Club middleweight earned a podium place at the Gold Coast, Australia.
Following that high-profile success, offers to enter the paid ranks quickly followed – but Docherty has unfinished business at amateur.
Despite claiming one of only two boxing medals for Scotland down under, Docherty jetted back home with a sense of frustration at what could have been.
He will use that to fuel his ultimate goal – not just to box for Team GB at the 2020 Tokyo Olympics but also to secure a medal.
Docherty said: "I had a few offers to go pro but to be a Scottish fighter fighting at the Olympics and then winning a medal – that would be something.
"I want to fight at the Olympics but it is my mind-set not just to qualify for the Olympics as I want a medal from Tokyo.
"I know I can do that as I have beaten a lot of the top boys and am getting stronger all the time.
"The Olympics are two years away and that is my main aim now."
Docherty secured a guaranteed medal with a split decision win over England's Ben Whittaker to reach the 75k semi-final in Oz.
However, he was unable to upgrade that guaranteed bronze when losing by unanimous points decision to Dieudonne Wilfried Seyi Ntsengue of Cameroon.
Reigning African continental champion Seyi Ntsengue would go on to secure a silver.
He said: "I had four fights before I lost the semi-final. I was tired.
"Yet I still went in there and gave it everything and didn't go on the backfoot.
"It would have been a much different result if I had came up against him three fights before that.
"He only had two or three fights and I had four.
"Having to make weight for all those days was killing me and the heat was taking effect. I am not taking anything away from him but it would have been a much different fight.
"He had so much more energy than me. In my head I know I could have beaten him, so hopefully I can face him again."
Docherty had suffered a bad cut above his left eye in the quarter-final that required stitches.
He said:"The tactic against the Cameroon fighter in the semi-final was to make him fall short and counter him.
"I didn't have the energy in my legs and thought if I am going to get beat here I am going to go out with my heart on my sleeve.
"I tried to wear him down with body shots and I did hurt him, although he didn't really let it show.
"But I knew I hurt him.
"Everything I hit him with he had a response.
"Every time I threw a combination I felt fatigued. "After the fight I just felt so drained."
In the immediate aftermath, just minutes after the defeat, Docherty admitted ringside that he was "sick" to just take bronze. When the boxing was finished he couldn't celebrate his medal win with his team-mates.
As we talked at the Byron Boxing club where he has put in years of graft, sacrifice and dedication, I tried to emphasise a Commonwealth medal, any colour, was a tremendous achievement.
Yet even with three weeks and 9,500 miles distance, that feeling has lessened little.
He said: "The boys (Scottish boxing team-mates) were saying to me you have won bronze, there are very few Scottish boys who have done that.
"There was only me and another lad (Reece McFadden 52kg) that did that. I didn't see it like that, I was just pure sick.
"The boys went out that night but I was still so upset I came back early.
"I absolutely hate losing.
"It is one of the worst things for me and even sitting here now, thinking that I have lost my last fight, it is horrible, absolutely horrible.
"The other boys said to me that I went out on a high at the Commonwealth Games but all I could think about was that I knew I could have beaten him if it was a few fights before."
This was the second time Docherty has never fully celebrated a Commonwealth medal.
He won gold at the Commonwealth Youth games in Samoa in 2015 but was hospitalised and isolated in quarantine having contracted dengue fever whilst at the games.
"I went to Gold Coast to get a gold medal as that was my target after winning gold at the Commonwealth youth games," he said.
"I thought it would be unbelievable to get a senior gold as well but it wasn't to be.
"I had a tough draw and my main win was beating the Englishman to guarantee that bronze. The support I got from people since Gold Coast has been brilliant, so I am beginning to think I must have done something right."
It is in the community centre gym in Northfield where the foundations are laid for Tokyo 2012 .
The Olympics is very much a realistic target for Docherty who is part of the Team GB Podium Potential set up. He also trains with Team GB in Sheffield.
Docherty was invited by Team GB to the Rio 2016 Olympics to experience a games is like – all part of the preparation for a potential 2020 place.
He said: "It has been a good season for me so far but I just want to get back to winning ways as soon as possible."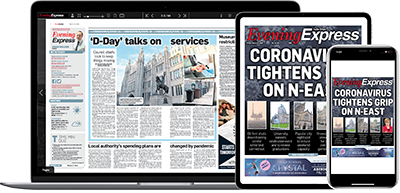 Help support quality local journalism … become a digital subscriber to the Evening Express
For as little as £5.99 a month you can access all of our content, including Premium articles.
Subscribe