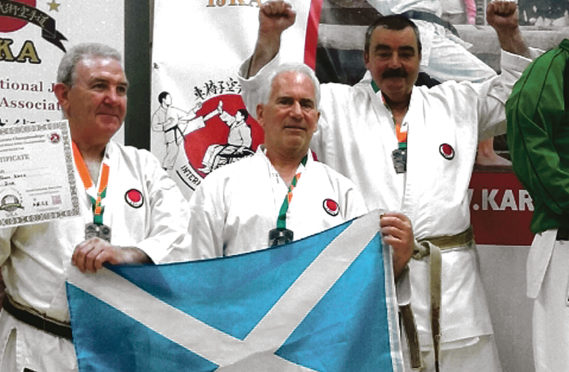 Not many can say they've committed over 40 years to the sport they love, but Alex Carroll celebrated 40 years at Aberdeen Shotokan Karate Club by being promoted to sixth dan black belt.
"It's an incredible achievement, one I didn't think I'd ever get.
"I've worked all my life for it and it's nice to see my accomplishments being recognised," the 59-year-old said.
Reaching sixth dan is no mean feat. It took Alex 39 years to progress from first dan black belt to where he is now.
Shotokan Karate Club is the oldest in Aberdeen, and Alex believes it's among the finest around.
He said: "It's among the best I've had, the guys that are teaching and training there have been doing it a long time, one of the guys has been training 50 years, so the level of instruction is very high."
Alex believes growing up in the 60s and 70s, when karate films were very popular, is what inspired him to take the sport on at the age of 17, and he hasn't looked back since.
"My close friend brought me to one of the classes at the time," he said.
"It was at the time some of the Bruce Lee kung fu films were becoming popular. I really enjoyed it and as time has gone on I've got more and more into it."
On top of his training with Shotokan, Alex has spent time training with Sadashige Kato, one of the top instructors in the world and a ninth dan black belt.
Alex believes he owes Kato for what he's achieved in the sport.
He said: "I owe Sadashige Kato quite a lot. He's like a favourite uncle, if you like. Without Kato I wouldn't have achieved what I have – he's always there to give advice.
"I certainly wouldn't have been doing this for this long if it wasn't for him."
Karate is gradually growing as a sport, with the sport being considered for inclusion in the 2020 Summer Olympics. Karate offers the opportunity to travel all around the world competing in European and World Championships, something Alex has been fortunate enough to do.
"I've competed in world championships all over the world including South Africa, Russia, Ireland and Poland, and European championships in Hungary, Bulgaria and Romania," he said.
"I returned with a medal of some description in every country except South Africa."
Alex stresses that his biggest achievements in the sport are the relationships he's made.
"It might sound weird to hear, but my biggest achievement isn't any of the medals I've won or countries I've travelled, just being involved in the karate club is an achievement, it's like a brotherhood."
Alex urges everyone to get involved, no matter how old they are.
He said: "It doesn't matter what age you are, karate is for everyone and that's why I love it.
"I'd just say give it a go, it's a great sport. There are a lot of martial arts now if you don't want to learn just to fight – you can learn an art."