This year's Green Final Skills Competition winner could be accused of being a perfectionist.
Dominic Love, from Robert Gordon's College, scored 160 points in the annual secondary schools football fixture on a sunny afternoon at Cults Academy.
He came top in the dribbling with 69 points, two better than any of the other boys involved.
However, he had to settle for being joint best at shooting and keepy-ups – where he scored 40 and 60 points respectively.
Dominic said: "I am very pleased I won.
"It was very good and I enjoyed the competition.
"I wanted to score top in all the categories but you don't always win it all.
"It's a good result, though."
This year's skills contest was a terrific one, with just nine points separating Dominic from closest rival Hamish MacKay from Hazlehead Academy.
Hamish's total was made up of 60 points for keepy-up, 65 for dribbling and 35 for shooting.
This left him just three points ahead of the third-placed Ramsey Davidson of Portlethen Academy, who scored 60, 62 and 35 respectively.
There were 14 competitors from seven city schools involved in the competition.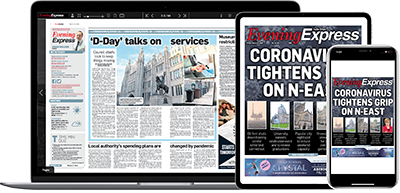 Help support quality local journalism … become a digital subscriber to the Evening Express
For as little as £5.99 a month you can access all of our content, including Premium articles.
Subscribe