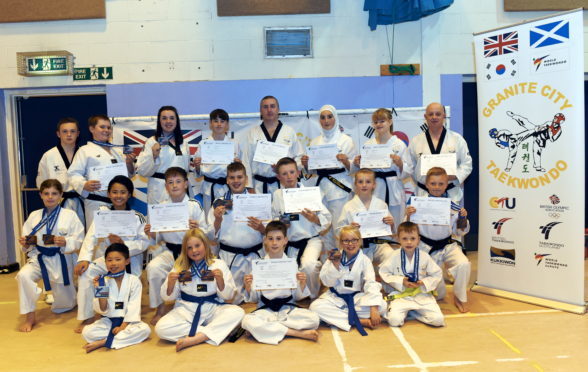 A north-east taekwondo club captured a haul of medals at this year's Scottish Championships.
Granite City Taekwondo, run by coach Lyndzie Jeffrey, travelled to the Ravenscraig Sports Centre in Motherwell last month, with most of the Danestone Community Centre-based club's entrants returning with a medal to show for their efforts.
Jeffrey said: "We travelled with a good-size team of students who participated in either sparring (kyorugi) or patterns (poomsae), or some students competed in both events.
"The majority of my students who entered returned with a medal."
Among Granite City's successes were Ben Kaufmann, who earned a silver in his poomsae category.
Joining him with medals in the patterns section were Louisa Smith, who took bronze, Ethan Baxter (silver), Lewis Campbell (silver), Lucas Anderson (bronze), Anna-Mae Smith (bronze) and Christina Stuart (bronze).
The kyorugi section of the championships yielded similar success.
Shannon McNulty, one of Granite City's assistant coaches, took home a silver medal, while Louisa Smith added sparring bronze to her poomsae third place.
Ethan Baxter also matched his patterns performance in the kyorugi competition, as did Anna-Mae Smith.
Kayden Fong and Ethan Thomson won silver and bronze respectively.
The Scottish Championships completed a double success for sixth dan black belt Jeffrey's school.
This year the club also hosted the first Scottish national grading to take place outside of the Central Belt, where 15 of the club's candidates were put to the test.
Of the students, 12 qualified as first-time black belts, two as second dans and one passed third dan, in an event praised by Taekwondo Scotland.