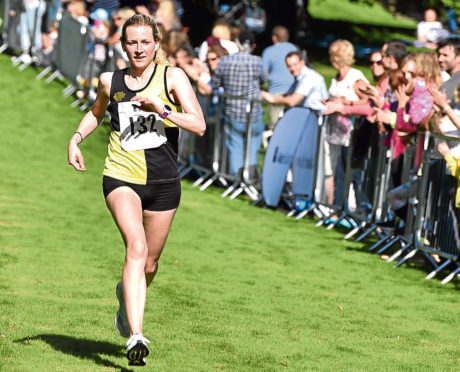 Metro Aberdeen's Fiona Brian lines up alongside many of the country's best distance runners in tomorrow's Vitality Big Half Marathon in London.
The race doubles up as this year's British championships and the Scotland international hopes going head-to-head with some top level performers will inspire her to a fast time.
The Aberdeen baker Hughes 10km champion's best for the distance is 1hr 18min 16secs, set when finishing 14th in the Great North Run between Newcastle and South Shields last September.
Brian believes she is ready to make a significant improvement on that if all goes well tomorrow.
She said: "I feel I am in great shape and I think I can get a good time if I can get in with a group. I'm sure there will be other girls of a similar level to me, so it should be a good opportunity to run well."
Brian tuned up for tomorrow's race by running in last weekend's Scottish cross country championships held over a testing 10km course at Falkirk's Callender park.
She finished fourth after a highly competitive race event won by Great Britain international Mhairi Maclennan.
Brian said: "Beforehand I felt if I could get a top five position I'd be happy. At one point during the race, however, I thought there was a chance of a medal.
"The first two runners were well ahead halfway round the final lap but behind them there were three of us together battling for third.
"However, Anna Tait, who went on to finish third, was very strong and got away from me on the final big hill.
"But I am generally pleased with my run. I would have been more disappointed had I been narrowly beaten for third position but I was quite a bit behind at the finish.
"We also finished fourth in the team competition which was good as we didn't really expect to be that high."
Brian's opposition this weekend is headed by Lily Partridge (Aldershot Farnham & District) who leads the UK rankings with her time of 1:11:06 set at Seville in January.
Among the other elite entries gunning for British Championship medals are Alyson Dixon (Sunderland Strollers), Charlotte Purdue (Aldershot Farnham & District), Sonia Samuels (Sale Harriers Manchester) and Tracey Barlow (Thames Valley Harriers), all of whom have run quicker than 1:14:00.
Brian has a couple of other major half marathon targets in mind after tomorrow, with races in Spain and Denmark in her sights.
She said: "My main goal at the moment is to be selected to represent Scotland at the Lillebælt half marathon in Denmark in May.
"I want to do well enough to achieve that. I'm going to the Valencia marathon later in the month which provides another opportunity to improve my time.
"It shouldn't be too hot in Spain at this time of year and it should be a great event as it is also the world championship half marathon.
"The course appears to be very fast so hopefully that will help."
Brian hasn't yet set down any definite plans beyond her half marathons although she is considering defending the 10km titles she won at Grangemouth and Aberdeen last year.
She said: "I might do Grangemouth again in April but I haven't decided yet, then there's the BHGE 10km in May.
"I'd like to do the Aberdeen race when I'm fresh because in each of the past two years it has come just a few weeks after I'd run in the London marathon.
"I've no definite marathon plans at the moment but I might look to do one in the autumn."
Aberdeen AAC's former Scottish 10,000m track champion Will Mackay and Great Aberdeen Run 10km winner Kenny Wilson (Moray Road Runners) will take part in the men's division of the Big Half marathon.
Sir Mo Farah and Scotland's Olympic marathoner Callum Hawkins are favourites to battle for the top two positions.