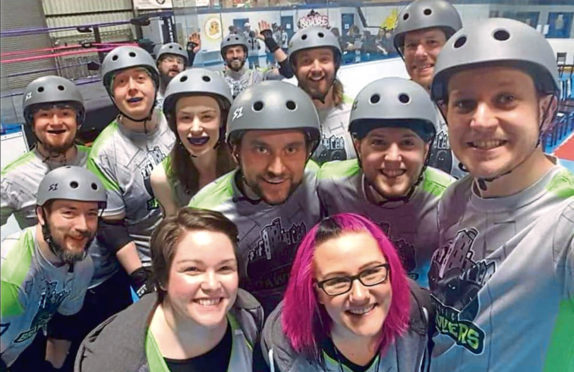 Aberdeen's men's roller derby team are set to bring an international competition to the north-east next month.
The Granity City Brawlers will host teams from France and Finland, as well as sides from the rest of the UK, in the six-team Silver City Cup.
The Men's Roller Derby Association (MRDA) endorsed tournament will be held at the Beach Leisure Centre on September 22 and 23.
Brawlers' league president Chris Mathieson said: "The tournament means a lot to the club.
"Last year, our application to be a member of the Men's Roller Derby Association (the international governing body) was accepted.
"There is a structure within the MRDA that means if you maintain your number of games per year, you are ranked globally.
"Each year, the highest ranked teams plays in a European and American play-off in order to get to the annual MRDA championships.
"At the moment there is nothing in the UK for the teams that do not sit in that top bracket.
"And we decided that we wanted to provide that for us, and other MRDA teams in the same position.
"Putting on the first ever MRDA endorsed tournament in Scotland is a great way to demonstrate the strength of the Scottish roller derby community, while welcoming our European guests."
The rules of roller derby are simple – the game is played between two teams on an oval-shaped track, on which players travel counter-clockwise.
Teams are made up of 14 players, but at any one time there are only five players from each on the track.
Of these five, four are blockers and one is a jammer – the jammers try to get round the track, with a point for each blocker they pass, while the blockers try to stop them doing so.
The blockers also try to help their own jammer round the track. One match lasts an hour, and is made up of 30 to 40 two-minute jams.
Mathieson promised spectators at the Silver City Cup an exciting time, adding the Brawlers had worked hard to organise the "fantastic" tournament.
He said: "The athleticism that will be on display that weekend as teams fight to take home the Silver City Cup will be unrivalled.
"Weekend tickets are available online just now for only £20, which gives you access to all the fast and physical action.
"A large focus of the event is showcasing what Aberdeen and Scotland have to offer and we will be encouraging our visitors to see the sites of the city on their visit.
"We will also be offering space to local businesses and vendors at the tournament, as well as other sponsorship opportunities to contribute to this first of its kind event.
"If anyone would like more information on this please drop us an email."
For those interested in trying out roller derby themselves, the Brawlers are currently running open nights on Friday evenings at the Aberdeen Lads Club between 7-9pm. Email ahead at info@granitecitybrawlers.com