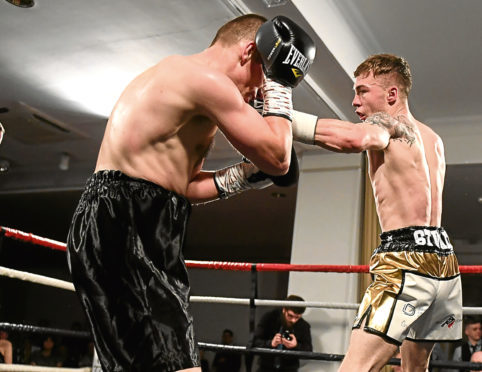 Rising super-bantamweight Billy Stuart today insisted he has no regrets about turning his back on the chance of competing at the Commonwealth Games.
The 20-year-old won 56kg silver at the Commonwealth Youth Games in Samoa in September 2015.
An eight-time Scottish champion and double British champion through the youth ranks, Stuart would have been in contention to compete in the senior games at Gold Coast from April 4 to 15.
Stuart's former Byron Boxing Club team-mate John Docherty won gold in Samoa and will box for Scotland down under next month.
Instead Stuart, aka The Butcher, opted for a move to the pro ranks and boasts a flawless record of five wins from five.
He maintained his winning record with a fifth-round stoppage of Rickey Starkey at the Hilton Treetops.
Stuart said: "Although it would have been great to go to the Commonwealth Games I have absolutely no regrets.
"I am progressing with my professional career and I am learning all the time."
In preparation for the Starkey fight, Stuart spent a week at a warm weather training camp in Tenerife.
He trained and sparred alongside brothers Ryan and Liam Walsh in the Canaries.
Both brothers are British champions.
Stuart has also sparred with recently deposed world champion Zhanat Zhakiyanov recently.
Northern Sporting Club's Stuart produced a dominant display to see off a durable, tough opponent in Starkey.
He fought on the undercard of Darren Traynor's Scottish super-lightweight title win over Eddie Doyle.
Clubmate Traynor became the first Aberdeen boxer to secure Scottish titles at three different weights.
Now Banff-raised Stuart is targeting his own Scottish title tilt by the end of the year.
Stuart said: "I want to be in the ring as much as I can, so hopefully it won't be long before I am fighting again.
"The target is to be challenging for a Scottish title by the end of the year.
"Ideally, this will be the start of a good year for me.
"Ultimately, Davie (McAllister Jnr) is my manager and will tell me what I will do and who I will be fighting.
"He looks after me and I trust him."
Stuart stopped Starkey two minutes and four seconds into round five for his second successive win inside the distance.
Victory in Stuart's previous bout against Ricky Leach came just two minutes 46 seconds into the opening round.
Stuart said: "Facing Starkey was the type of fight I needed.
"He was an ex-soldier and he came to Aberdeen to fight.
"He had a real will to win, so I was pleased to get the victory.
"Towards the end of the fight he was surviving and was holding me close to try to get himself a breather.
"That was partly my fault as I could have done a few things to stop him from doing that.
"However, it is all a learning curve and all about winning fights.
"I hit him with a few good shots but he took them.
"However, you can only take a certain amount of those hits before you start to deteriorate."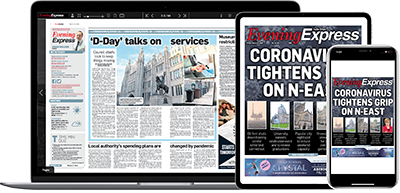 Help support quality local journalism … become a digital subscriber to the Evening Express
For as little as £5.99 a month you can access all of our content, including Premium articles.
Subscribe