Callum Home is hoping Peterhead can beat Clyde tomorrow to strengthen their title hopes and also give him some friendly bragging rights.
The Blue Toon are five points clear of Edinburgh City at the top of League Two and meet the Bully Wee, who are a point further back in third, at Broadwood.
Victory in Cumbernauld would be a big step towards title glory for Jim McInally's men with just four fixtures left after tomorrow.
That is motivation enough for Home, but after arriving at Balmoor, having spent last season with Clyde, success in this clash would give him bragging rights over his former team-mates.
The 26-year-old said: "When I was with Clyde last season I played with a good chunk of the squad that are still there. I know they have good players in their ranks and I still speak to some of them.
"It's good going up against guys you know but there won't really be any chat between us in the build up to the game.
"It's a big game so everybody is focused on that and trying to get the three points.
"But there will be some chatting afterwards and it would be nice if we could win because it would help us in the league but also give me bragging rights."
Home expects Clyde to come out and attack Peterhead because he reckons defeat for Danny Lennon's men would kill off their title hopes.
He added: "I think Clyde will come out firing right from the first whistle because they need to win.
"So I'd expect them to be trying to go for the three points.
"If we could win it would probably put them out of the title race because we would be nine points ahead of them.
"It would take a big swing for them to come back, so if we could win it probably leaves things between ourselves and Edinburgh.
"It's been a long season and the boys have put a lot into it.
"There's five games to go and we want to make sure we don't do anything daft now.
"We need to stay professional and get the results we need to win us the league."
Home has made 22 appearances for the Blue Toon this term, but only eight of them have been starts.
He would have liked to have featured more, but has still enjoyed being part of a squad trying to win the league.
Home, who has started Peterhead's last two games, said: "It has been difficult because everyone wants to be on the pitch playing because that's why you're in the game.
"But the boys that have been playing have been doing the business and we're top of the league so you can't have too many complaints.
"You just have to wait for your opportunity and I've had that in the last couple of games.
"I feel I've done well in those games against Edinburgh (0-0) and Cowdenbeath (2-1).
"It's always good to be involved in a squad trying to win something.
"I would have liked to have been involved more but if we can get across the line and win the league it will be something special."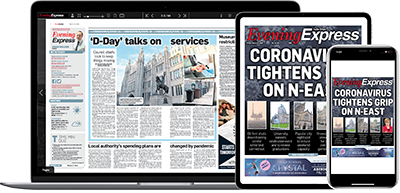 Help support quality local journalism … become a digital subscriber to the Evening Express
For as little as £5.99 a month you can access all of our content, including Premium articles.
Subscribe