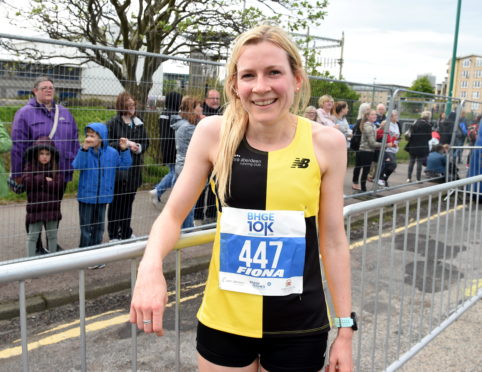 Metro Aberdeen's Fiona Brian will be aiming for a fast time when she joins 30,000 other runners on the starting line for the 123rd annual Boston marathon in 11 days.
The Scotland international, who is competing over the distance for the fourth time, is eagerly looking forward to the race after showing some outstanding form over the past couple of months.
Brian has been getting stronger and faster since shrugging off an injury at the tail-end of last year and is now running better than at any stage in her career.
In February, she placed fifth in the national cross country championships held over a testing 8km course at Falkirk.
The following month she clocked a personal best half marathon time of 1:15:01 to take 10th position at the British championships in London.
And last weekend she topped off her Boston preparations by winning her first national road running medal by taking silver behind Kilbarchan's Elspeth Curran in the Scottish 10-mile championships.
Brian's time of 56min 35secs for the Strathclyde Park course was a personal best by a big margin.
She said: "I thought I might have been a little quicker but I reckon the marathon training was in my legs.
"Elspeth was ahead from early on, but not by too much. After mile five or six she pulled away and the gap didn't change much after that.
"Getting under 57 mins is fine and I am pleased to have won my first national medal."
Now it's a case of fine-tuning the engine and tapering the training to ensure Brian is fresh and ready to go when the gun fires to send the runners on their Patriot's Day journey from the small town of Hopkinton to the capital city of Massachusetts on Monday 15.
Brian has shown progressive improvement in her marathons since making her debut at London in 2016 when she recorded 3hr 9min 42sec.
She returned to the UK capital last April and clocked 2:53:50 before posting a 2:48:47 performance at Chicago in October.
Now she's looking to step up to another level on the rolling Boston course.
Brian said: "Boston isn't an easy course so I'll have to think carefully about how best to pace it.
"It's generally downhill to begin with but you hit the uphills later on, just when you don't really want them.
"So, pacing is difficult. I need to be a bit ahead of schedule to begin with but it's a case of being careful not to overdo it so my legs are ready for the climbs later on.
"It's a case of finding the right balance, so I'll need to study the course a bit more and give it some careful thought.
"I'd definitely like to run a personal best time and hopefully get under 2:45:00, but we'll see what happens. I'm still respectful of the distance so I won't get too carried away."
Brian will be able to get some good insight about the race from husband Tom, who ran the Boston marathon in 2015 when Fiona took part in an accompanying 5km.
She said: "I was a spectator at the marathon that day so it will be great to be actually doing it this time.
"The atmosphere was amazing and the crowds were crazy, so I'm really excited about it."
Although the American race is Brian's main priority for the first half of the year, she is also keen to maintain her fine record on the local road running scene.
She has won the Aberdeen BHGE 10km four times and hopes to defend her title in May.
She said: "It's only three weeks after the marathon but if my legs have recovered I'd be keen to do it. I competed in 2016, just three weeks after the London marathon, so hopefully I'll be fine again this year."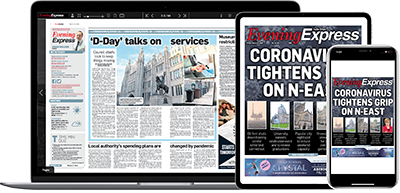 Help support quality local journalism … become a digital subscriber to the Evening Express
For as little as £5.99 a month you can access all of our content, including Premium articles.
Subscribe