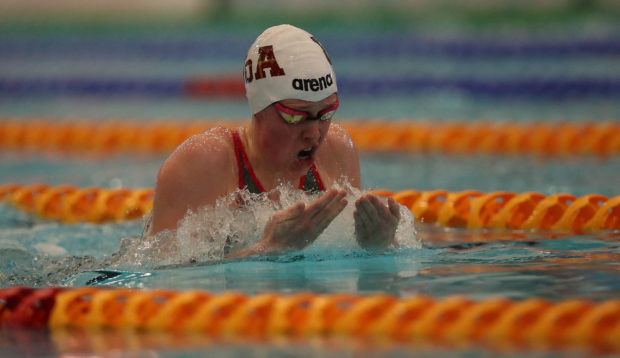 Scotland's national swimming coach has hailed Inverurie's Hannah Miley as she aims to make a fourth Olympics.
The 29-year-old is competing in the Scottish Open Championships which start at Aberdeen Sports Village (ASV) today and run until Sunday.
Miley trains at ASV and is a veteran of three Olympics and multiple medalist at World and European Championships as well as the Commonwealth Games.
She is on the comeback trail after ankle surgery and is aiming to make next year's Tokyo Games.
Ahead of the championships national coach Alan Lynn said: "Hannah is always one to watch and she'll be the local favourite at this event.
"She's having a good season coming back from surgery and her final competition will be the US national championships in July before she heads into Olympic year.
"I've been delighted that Hannah's come back well. Hannah's longevity in swimming is remarkable – swimmers are now staying in the sport for longer.
"The average age of Olympic competitors is increasing at each games and that's a good thing.
"Hannah is an exception in terms of her longevity, but we hope more of our younger athletes in the future stay in the sport as long as she has and have the success she's had."
The Scottish championships feature world champions Duncan Scott and Ross Murdoch who are preparing for next month's worlds in Gwangju, South Korea, as well as other high-quality competitors.
Lynn added: "This event always attracts a high-quality international field and this year is no different.
"Duncan Scott, Ross Murdoch and Scott McLay are in the British team for next month's World Championships so they'll look to fine tune their performances.
"But there are plenty of others like Aimee Wilmott, England's Commonwealth Games champion who trains at Stirling.
"There will be a lot of the Scottish team from the Commonwealth Games who will be on show."
Lynn is pleased the national championships are in the Granite City and hopes the north-east public get behind the event.
He said: "We were there at the weekend for a youth camp and it's a fantastic facility that we all love coming to.
"We'll be back in September with another youth camp and plenty of camps next year. As far as we're concerned all roads lead to Aberdeen.
"There are plenty of swimming fans in the north-east so hopefully they turn out and support us and we'll try to have some great racing."