Hannah Miley is ramping up training ahead of her fourth Commonwealth Games – and she's trying not to dwell on her chance to write a chapter of swimming history.
The 28-year-old, who was brought up in Inverurie and is living in the Granite City near to her training headquarters at Aberdeen Sports Village Aquatics Centre, is the reigning 400m individual medley champion at the Games.
If she can claim the gold in Australia's Gold Coast in April, adding to her Glasgow 2014 and Delhi 2010 success, she'll be the first Scot to win a swimming title, in fact any title, for three consecutive "Commies".
Miley said: "It has been done before by an Australian swimmer called Petria Thomas in the 100 fly (and by Leisel Jones, in the 100m and 200 breaststroke).
"I'm very aware there's a big opportunity there, but I'm having to put that to one side as it's an extra pressure for my mental preparation.
"I need to make sure I go into this race, give it everything I've got and, whatever the outcome, I can walk away still feeling happy I've tried it and given it my all."
The 400m medley is very much the event Miley specialises in – she is British champion and came second in the event at the Europeans in 2016 and the Worlds in 2011 – and there's an expectation she'll be up there challenging for gold. She'll also be competitive in the 200m version of the event, qualifying for both.
However, at the Games in Glasgow she was able to enter seven race disciplines, and this is a bonus part of the Commonwealth Games she enjoys, first and foremost, but she also thinks it improves her chances in the main events.
She said: "It's kind of nice having the opportunity to try those events at a high-level competition as it lets you put out a bit more.
"At competitions – national and locally – I'll tend to swim everything.
"My main events are obviously faster than the other events, but I normally swim them when I'm tired.
"It's an opportunity to swim them (the other events) a bit fresher off of the back of a taper and see if I can put out quick times, PBs or try to be faster than I would be across the rest of the year.
"I tend to race a lot of events across the year anyway. It helps the 400m medley, because it's all four strokes and it's middle distance, with only a 100m for each stroke.
"So you need to have speed, but the endurance to hold the speed over a long period of time.
"That's why the combination of having a mix of other events helps.
"I do enjoy them though, because they're non-pressured events. For me there's no expectation of 'you're the best in that event, you have to win medals'.
"I don't feel that when I swim those races and normally a happy and relaxed swimmer tends to be a fast swimmer.
"For 200m breaststroke or 200m fly, they're my fun events or I can just work on the skills."
The life of an elite swimmer like Miley doesn't provide much time off, although there are about two weeks after the hectic summer schedule where she gets something dangerously like a holiday.
However, training isn't at competition intensity all year round, in fact, conveniently, it is about this time each year where this phase begins.
The nerve centre of Miley's preparation is now almost exclusively Aberdeen Sports Village (ASV), which is now equipped with a 50-metre pool alongside strength and conditioning facilities.
It is here her coach Patrick, her dad, is getting her ready to fly out on March 17 with the rest of Team Scotland's aquatics contingent.
Miley detailed how her days are structured at the moment: "On a typical day I'll have an alarm that'll go off at 4.30am," she said.
"I have a lumilight that lights up the bedroom – I feel it's a kinder way to get up at that time in the morning.
"I'll then make some breakfast. I usually have porridge.
"I'll be at the pool at ASV for 5.30am and spend 15 minutes at the poolside doing exercises I've got from my physio for activation and waking up my muscles.
"At the moment the rotator cuff on one of my shoulders needs a bit more time to loosen off and make sure it's active.
"It means when I dive into the pool I'm less likely to get injured.
"I'll swim for two to two-and-a-half hours depending on the day, then I'll either do a circuit at the poolside or go to the gym for about an hour-and-a-half.
"The gym session is Olympic lifts – like cleans, snatches or squats – bench press or dumbbells and is focused on what I want to get out of it, whether it's strength or endurance and the sets and reps are tailored to the phase I'm in.
"The exercises vary. There are a lot of pull-ups because I feel I need to lift my own bodyweight – once I master that I add additional weight to it.
"There's core work in there as well, because in the water you're knocked about, it's not a stable environment, so to have a good core is really important.
"I'll then have a second breakfast – I love my food and tend to go to the supermarket a few times a week to top up – then I'll have a power snooze to make sure I can stay alert for the rest of the day with the early start.
"During the day, I'll catch up on e-mails or I'll try to catch up with some friends.
"I'll have a bit of lunch and then it's back to the pool for same again. That usually finishes about 6pm and I'm back home for 7pm or quarter-past.
"I'll eat dinner then try to be in bed by 8.30pm.
"I need to get the best out of my recovery, so I need to be getting seven-and-a-half to eight hours sleep at night."
At the moment Miley follows this routine Monday to Friday, reducing to one pool session – her last and most difficult of the week – on Saturdays.
Sundays are her only day off, with the weekends reserved for most of the "unhealthy" foods she eats – she eats intuitively, has a penchant for Wagamamas and said "there are no bad foods just bad diets".
Miley has a twice-yearly meeting with her coaching group to see how things are going and has regular meetings with her dad to adapt her training as necessary, although it is never regimented to the letter.
Instead, sessions are tweaked dependent on how her coach feels she is physically, or even mentally, on that day.
The example she gives is, if you're already feeling tired, but know Tuesday afternoon is always a difficult day for training, you're on to a loser already.
If you don't know what you're going to get, there's no time for that mental block to get in the way.
However, there are certain structures her training follows.
She said: "One of the reasons I still have my dad as my coach is because his planning and attention to detail works for me.
"Monday morning is always quite skills-based, working on technique. One of my coach's favourite things is 'the first barrier to speed is technique'. "It's aerobic low-level swimming to get your body back into it again after having the weekend off.
"We'll break down the components of the 400m medley. My sessions will be quite high volume sessions – 7,000m to 8,000m – and in that I'll vary the intensities."
So where does the swimmer feel she needs to improve before Oz?
She said: "I have some days where my 200m pace is really good, but other days where I think I need to work on my endurance a bit more.
"It's hard to predict what needs to be worked on, but I use competitions as markers.
"I've got the British championships coming up in March, so that's a good opportunity to work out what are the last bits to fine tune.
"I always find, if you've got two or three weeks to go (before a competition), whatever you do is not going to have an impact.
"You're not going to see the benefits of any working block you do until maybe six months down the line.
"That's why there's so much planning involved.
"It's another reason why I swim a lot of races, because it gives me an indication of my physical state."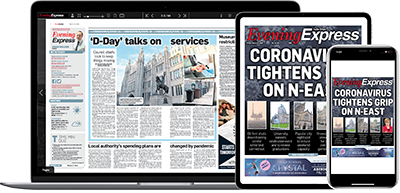 Help support quality local journalism … become a digital subscriber to the Evening Express
For as little as £5.99 a month you can access all of our content, including Premium articles.
Subscribe