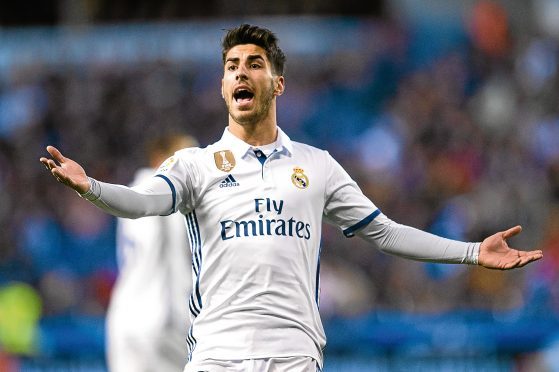 The European Under-21 Championships in Poland are turning into quite the wee post-season boost for Real Madrid.
Not so for Barcelona.
Albert Celades, the Spain coach, is a metaphor for this pending transfer of power from Catalunya to Castilla.
As a tidy, organised midfielder in the Johan Cruyff Dream Team era at the Camp Nou, he tired of being a bit part player and moved to Real Madrid.
In the furore over Luis Enrique going the other way and Luis Figo becoming the first Galáctico a few years later, that fact has been rather forgotten and obscured … but he did.
His team's two wins, 5-0 against Macedonia and 3-1 against, Portugal mark Spain down as the side to beat. They're already in the semi-finals where they'll play either Italy or Germany – inevitably testing.
But what marks this down as a special moment for Madrid is the form of their various players (and targets).
Marco Asensio scored a dazzling hat-trick in the first match, Jesus Vallejo was voted man of the match against Portugal, and Marcos Llorente has Rolls-Royced his way through the midfield in both matches.
One of Madrid's desires this summer is Italy's phenomenal young keeper Gigi Donarrumma, who's gaining valuable experience with Italy.
In contrast, Barcelona have one player in the Spain squad, Denis Suárez, who's first season back at the Camp Nou was deeply underwhelming, and they are forced to look enviously at Hector Bellerin, who they trained and developed but who has gained maturity at Arsenal and will cost Barca (the nitwits) at least £40 million to repatriate.
Worst of all, Asensio, a football genius, was a Barcelona fan and was about to complete his move to the Camp Nou from Mallorca until the Barca board refused to pay 4m Euros in a lump sum rather than in stages. So Mallorca sold to Madrid.
A monumental error for which Asensio, and Madrid, will make them suffer for many years to come.