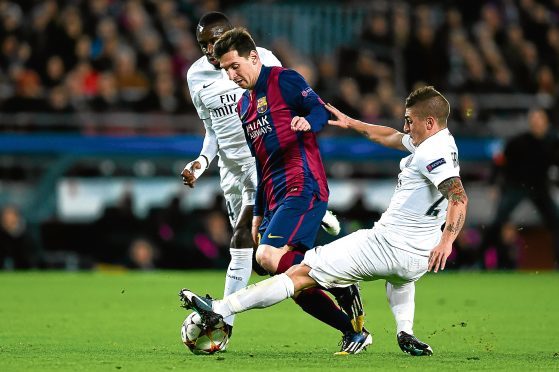 I know this may already have been covered in the "Hatch, Match and Dispatch" pages of the Evening Express …
But, ladies and gentlemen, I'd like to emphasise that Mr Lionel Andrés Messi (not of this parish) and Ms Antonella Roccuzzo (Echt) will be married in the Casino Center, Rosario, later this month.
No, no … nae Rosemount, Rosario in Argentina – where the pair were both born.
Shortly after he's turned 30, it'll mean Messi has harvested almost everything he's ever wanted in his life – the most dazzling football career, joy in his work, trophies galore, two happy, healthy kids, loving partnership with a sweetheart from his childhood.
That birthday comes in eight days and given how much joy he's gifted us all, your mind should probably be turning to what to give the man who has (almost) everything?
Sadly, what he yearns for is outwith both your powers and mine.
Two things bear repeating here.
Firstly, although it's now 12 years since he made Argentina world champions (the 2005 Fifa World Youth Championship in Holland), winning both Player of the Tournament and top scorer, he's never lifted the World Cup for his nation.
That title, if he never scored another goal, lifted another trophy for Barcelona, and never again got the better of Cristiano Ronaldo, would complete him.
Not because Maradona won it, not because it would augment Messi's case to be considered the best footballer ever born – simply because he's a fundamentally ferociously competitive animal and he yearns to prove he can do it.
More, he's both stung and motivated by the fact many in Argentina still doubt and decry him for having lived the last 17 years of his life in Spain. People are so churlish.
Finding out that Leigh Griffiths could hit a free-kick or two put the entire Scottish football public into a state of orgiastic Nirvana, but Argentina have Messi and many turn their noses up at him.
So, it needs to be understood that qualifying for and then winning the World Cup in Russia will be Messi's top two priorities once he says: "Si, quiero!" (I do!) to Antonella on June 30.
Achievable or not? That's the question.
The first step is monumental – away to Uruguay, whose point advantage puts them in the automatic qualification spots and keeps Argentina out of them.
Messi v his great friend, Luis Suárez, with whom he's been holidaying in Ibiza these last few days.
The pair, their partners and their kids are inseparable – and harmony off the pitch has led to the most extraordinary fertility up front for Barcelona.
Who comes out on top in late August will influence whether Messi can take a significant step towards what seemed not only unlikely, but near impossible a couple of months ago when Argentina were feckless, he was to be banned for a handful of games and the national team coach was a lost soul.
Messi's ban is now rescinded, Argentina recently toughed out a 1-0 win over already qualified Brazil in a friendly and Jorge Sampaoli is in charge of the Albiceleste.
One thing that travelling, writing and reporting over the last three decades has taught me is that the anatomy of a triumph, looked at retrospectively, always has a clear road map.
Things click together. They may be imperceptible at the time but sporting tectonic plates, in their way, are as impactful as in the natural world when they engage naturally and when they rip asunder.
Right now there's the gentlest hints that the Messi story might, might just be heading for the storybook climax that would transform his life, his career and his legacy.
Right now it's still heavy odds against – but the recently barren ground is now irrigated and impregnated with green shoots of recovery. Argentina were lost, but now have a restored GPS.
Which takes me to the second thing which needs to be repeated and emphasised.
Right now, Messi's club situation is not ideal to help the World Cup narrative grow and thread towards victory in Moscow on July 15, 2018.
Part of it is personal. He has not yet learned the lesson which helped Cristiano Ronaldo power to such a successful and dominant end to this season. Rest.
Once, the two were identical. Neither player wanted to miss a minute, never mind a game.
Each thought himself indispensable.
It was an unwritten rule at Madrid and Barcelona that, if fit, Messi and Ronaldo played all but the most meaningless cup games.
No argument, no discussion, no question.
Then Zidane showed Ronaldo the light and warned him that his post-European Championship pre-season would be slower and less curtailed than might normally have been the case.
Having missed the European Super Cup, Madrid's coach began resting CR7 as early as September.
Right now this is a strategy Messi refuses to contemplate.
With a new coach at the Camp Nou next season it'll take the player to broach this subject because Ernesto Valverde doesn't possess Zidane-power.
The other vital points are that Messi needs to sort and sign his new contract at the Camp Nou.
Changing club next summer (he's out of contract in June 2018) is not conducive to winning the World Cup.
Lastly, Barcelona's midfield vitally requires Marco Verratti – albeit that his cost from PSG looks prohibitive and the operation to persuade his club to release him arduous.
Not unless the players behind him at club level are younger, faster, smarter and more competitive will Leo Messi reach Russia next summer and be fit to conquer the world.
If he had the gumption he'd lower some of his new contract demands on the specific guarantee that they'd be re-directed to capturing the little Italian genius.
Then the road-map to Moscow would look just a little clearer.