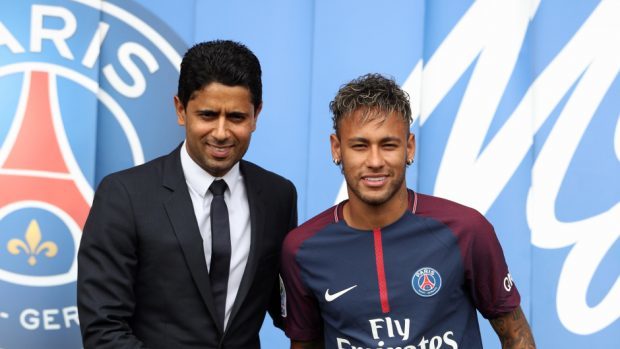 It's about Neymar this week. Of course it is.
But not the world record "fee", nor the farce surrounding how his 222 million euro (£198m) "buy-out clause" is exercised, whether there's vast tax to be paid on the deal or whether Neymar Snr will, ludicrously, get upwards of 20 million quid as a "loyalty" payment for his boy completing just a year of his current contract.
No. There are much more interesting issues afoot here in Barcelona as the football world convulses over, by far, the biggest sum of money ever spent on a player, taking the immature Brazilian to Paris.
This is a story of talent, kung-fu kicks, Alex Ferguson, Eric Cantona and Andres Iniesta.
Lost in the white noise of hourly "news" stories, outraged opinion, comment pieces and anticipation of what, on earth, Neymar can give to PSG to merit what will be a minimum £600m outlay if he signs a five-year deal, have been Iniesta's words.
Talking about the 25-year- old Brazilian who played most of his Barcelona matches directly in front of him, Iniesta said: "200m euros or even 300m euros couldn't be more important for Barca than having Neymar on the pitch with us."
A huge statement.
Before expanding on it, I'd argue that Iniesta's sentiment was echoed, albeit from a different angle, by Sergio Ramos, who embraced Neymar in Miami after Madrid's 3-2 defeat to the Catalans, swapped shirts with him and then said: "I hope that's the last time he wears a Barca shirt! If so then life will be much less complicated for us!"
What all the unnecessary hourly updates on internet sites and television block out, because of their infantile need to produce "new noise" on the subject over and over again, is the key issue.
Football teams win matches, leagues, great trophies and all-time admiration because of talent.
Team work, training, good scouting, brilliant management, tactics – all vital.
But every single elite manager, particularly the most experienced ones, will tell you that talent, when married to good attitude, makes the killer difference.
Technical talent, elite attitude, mentality, athletic talent – the mix is rich.
However, the hardest thing in football is amassing that talent.
Whether you like Neymar's fancy-dan style of play, whether you (accurately in my book) think of him as significantly immature in football mentality or whether you dismiss him as astronomically greedy for suckling at the Paris/Qatari teat – the fact is that Barcelona have lost a world-class talent.
And no matter who they sign, they won't, certainly immediately, be replacing like for like.
It's not feasible.
Which is why I mention Cantona and Fergie.
When King Eric kung-fu kicked a man in the Crystal Palace crowd and was banned from football for nine months in 1995, the kick-back from English football was enough to make the Frenchman decide to abandon United and begin proceedings on a move to Inter Milan.
Aberdeen's greatest manager got wind of this, flew to Paris where Cantona was holed up, nicked out the back of the George V hotel kitchen and leapt on the back of Jean-Jaques Bertrand's motorbike so that the agent could whisk him away from the media gaggle and to a private dinner with Cantona, during which Fergie got inside his head and persuaded him to stay.
"Those hours add up to one of the most worthwhile acts I've performed in this stupid job of mine", Fergie told the writer Michael Crick.
Talent. That's the worth of talent. Worth a proud man not begging, but at least supplicating himself in a way he'd never done before, nor would again.
So, back to Paris – back to Neymar.
If he hasn't made a mistake, I at least think he's chosen a course of action which marks out his immaturity.
He's being driven by his father, never a great engine in sport where the talented offspring stays under the thrall of a dominant parent.
Neymar Snr has too great a financial stake in this operation for his boy to make any other decision.
The Neymars, Snr and Jnr, have lived a roister-roister, social life around Barcelona while being paid a king's ransom by Barca.
And while the 25-year-old has given back goals, spectacle and trophies to the Catalan club, I've never witnessed a consistent number of consecutive months when he's lived with the ruthless, focused "will to be the best" which drove Messi, Xavi, Iniesta, Puyol or, latterly, Piqué.
I've met "Ney" a couple of times, interviewed him and interacted with him and he's always been pleasant to deal with – however, if you told me he was 18, not 25, it'd be believable.
Nevertheless, thinking of kung-fu kicks and all that, perhaps there's another way to think of this. Perhaps.
Three years ago, during the World Cup quarter-final, Colombia's Juan Camilo Zuniga produced a Bruce Lee-like challenge into Neymar's back – leading with his knee.
Vertebrae in the Brazilian's spine were fractured, he was stretchered out of the remainder of the tournament and the hosts were utterly humiliated in the semi-final without him.
Neymar's decision to move to PSG is predicated on money, on being king of the castle instead of just the jester behind Messi (and Suarez, if we're honest) and, I think, on running away from the constant legal battles in which the Neymars have been embroiled since moving to Spain.
However, maybe, just maybe, the shocking impact of temporarily having suffered a spinal injury catalysed the thought that: "Life's short … carpe diem … let's have some fun!"
I don't know that for sure. But it helps me reconcile myself to what looks like an odd, perhaps ill-chosen, move.
All I do know for sure is that, if this were Fergie, he'd be on that motorbike right now – determined to haul his talented superstar back before PSG papers were signed.
Because, in the end, immaturity can be cured – but there's a scarcity of elite football talent like Neymar's.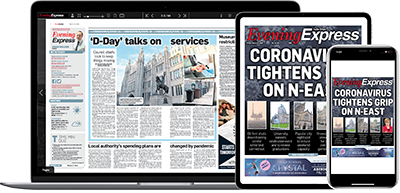 Help support quality local journalism … become a digital subscriber to the Evening Express
For as little as £5.99 a month you can access all of our content, including Premium articles.
Subscribe