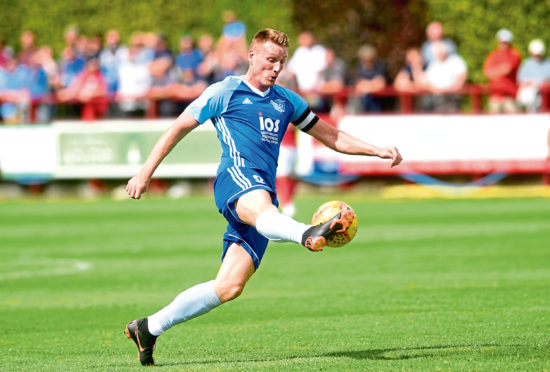 Peterhead captain Rory McAllister wants to keep piling the pressure on their League Two title rivals.
The Blue Toon face Annan Athletic at Balmoor tomorrow with a five-point lead over Edinburgh City and a seven-point gap over Clyde at the summit.
With nine games to go, the Buchan outfit are determined to keep winning to put the pressure on the teams chasing them.
Tuesday's 3-1 triumph against Cowdenbeath made it five victories in a row for Peterhead.
Skipper McAllister said: "The way I see it is that the other teams can't afford to slip up now.
"If Edinburgh City lose again it's eight points, or if Clyde lose they could be 10 behind, and that's really hard to come back from.
"We just need to keep winning our games and Saturday will be a difficult one, but we just need to keep winning.
"We just want to keep putting the pressure on and it's a bit like the situation we were in last year against Montrose.
"Montrose just kept winning and we couldn't overhaul them and that's what we need to do and just sicken teams.
"This is the time of the season that you've got to win games.
"It doesn't matter how you do it, you just have to get over the line.
"As long as we keep getting three points the pressure is back on the teams chasing, so we just have to keep winning.
"Whether it's winning ugly or playing good football, we need to keep winning.
"If we do that, then the pressure is back on the other teams to catch us. But I feel we have the team to do it and we are in a great position and it's up to ourselves.
"If we don't do it now we can only look at ourselves and say it's our own fault.
"It is in our hands to win the league and I think we have the players to do it."
Annan could prove tricky opponents for Peterhead. They beat the Blue Toon 3-0 at Galabank in January – the last meeting between the sides.
McAllister is keen for revenge and wants a similar performance to Tuesday's win over Cowdenbeath.
The 31-year-old added: "I didn't play in the last game but we have to look at it like we are due them one.
"We have played them three times this season and in two of the games they have probably been the better team so we're due them one.
"We'll have to be on our game because they are on a great run, but we have been playing well.
"We played well on Tuesday and did well for 45 minutes against Elgin.
"It's been a lot of 45-minute performances from us at times, but I felt on Tuesday we controlled the game well and if we can take that into tomorrow we'll be all right."
McAllister hit a brace against Cowdenbeath to take him to 15 goals this season and the striker wants to keep scoring.
He said: "I thought I was good but I feel I have played quite well and have contributed assists and a goal here and there.
"But it's always good to get goals as a striker and get the confidence up again.
"As long as we keep winning it doesn't matter who scored, but it's always nice to get a goal or two."