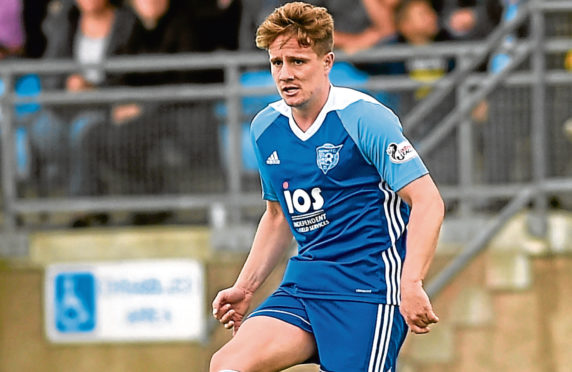 Simon Ferry is desperate to win League Two for Peterhead's fans and directors.
With three games left the Blue Toon are four points clear at the top of the table and could win the title tomorrow if they beat Elgin City at Borough Briggs and Clyde lose to Berwick Rangers.
After relegation in 2017 and the agony of missing out on promotion last season, Ferry doesn't want to let down the Buchan team's supporters, who are in the stands and the boardroom.
The former Dundee, Swindon and Portsmouth player is one of a number of Peterhead players based in the central belt and he has great admiration for the way the Balmoor directors and volunteers look after the players.
The midfielder, 31, said: "I think when you've got something to play for there are always nerves because you don't want to let people down.
"The fans have travelled all over the country to watch us away from home and they pay good money every week to come and watch us.
"The directors at the club look after the players so well. So it's probably a fear of letting those people down more than anything.
"I can never stress enough how much the directors do for the players, I don't think you get treated like this at any other club.
"So of course you want to do well for these people. The fans and directors are relying on us so it's up to us as players to get it done.
"Players from other teams complain about travelling to play us at Balmoor twice a season.
"But most of our players make a long journey for home games and I don't think any player will travel further than Greg Fleming and Willie Gibson do.
"There's a sacrifice made, but we do it because it's such a good club with the directors, the staff the manager. Even people like Stan the groundsman and Jock the kitman, they work really hard for our benefit so it would be great to win the league for them."
Ferry doesn't expect an easy game against Elgin tomorrow, but wants Peterhead to take advantage of their fate being in their own hands as they look to win promotion.
He added: "We are in a great position. If you'd told us we'd be four points clear with three games left we'd have taken it.
"The boys need to embrace it and enjoy that pressure because there could be a lot worse pressure on us.
"We need to use that to our advantage and do what has got us to the top of the league in the first place.
"I hear a lot of people saying that Clyde are the best team in the league.
"But Clyde haven't been top this season – so I don't know how people can come up with that.
"We've been top or on Edinburgh's coattails for the whole season.
"We are in that position for a reason and the boys need to do what has got us in that position.
"We need to be brave, get on the ball and make things happen.
"Elgin can't go up or go down, but they have lost their last six games. Knowing footballers nobody wants that kind of record hanging over them.
"It's also a derby so I would expect Elgin to be up for a fight and come at us trying to win the game.
"You also know the pitch at Borough Briggs isn't great and they have got some good players so it will be a hard game."