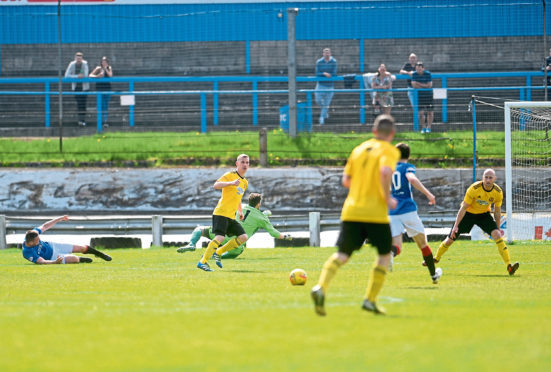 Cove Rangers' 52-goal hitman Mitch Megginson said "every fan in there could see it was an absolute disgrace" after his side lost their League Two play-off final against Cowdenbeath.
After a goalless first leg last weekend, the Highland League champions' quest for Scottish league football ended in controversy, with the Blue Brazil scoring a winner which should not have stood before referee Steven Kirkland reduced Cove to eight men – and dismissed both managers – after a touchline stramash.
After going behind to an early penalty, Megginson's marvellous double made it 2-1 Cove by half-time.
However, a free-kick, which looked soft, but which the Aberdeen side failed to defend, levelled it, before Brad Smith made it 3-2 Beath, scoring into an open goal after big no.9 Jordyn Sheerin blatantly tripped keeper Stuart McKenzie.
Megginson said: "Every fan in there could see it was an absolute disgrace how we lost that game.
"It's a foul for their third goal, not a foul for the second.
"We've been absolutely robbed.
"The boys have given everything all season and you get to this point – if we lost we're gracious in defeat and that's how it is, but to lose like that is so hard to take."
Similar to last weekend, Cove showed they were the more dynamic, attacking team, but a combination of slack defending and baffling officiating won the day.
As they desperately sought a way back into the tie in the final section, referee Kirkland awarded free-kick after free-kick to the home side, preventing John Sheran's side from building anything.
Megginson added: "We showed we're a better team than them. First half we were battering them with chances again.
"Second half, you've got to defend the free-kick (for Cowdenbeath's second) and the goals we lose at times are boys' stuff.
"But you can't lose goals like that.
"For the third one there's not much we can do, it's a foul on the keeper.
"Even their striker, I asked him and he said 'yeah'. It's hard, it deflates you.
"We tried hard to get back in, but every decision goes against us. Everything goes for them.
"The ref gave them everything, it's frustrating.
"We had a couple of chances near the end, but unfortunately it wasn't to be."
Sheran's men got off to a bad start. As had been the case in the first leg, Cove struggled to cope with Sheerin's physicality up top on six minutes.
His flicked header forward was latched on to by Robbie Buchanan and Alan Redford took him down from behind, conceding a penalty.
Harvey Swann made no mistake in smashing it into the left top corner of Stuart McKenzie's goal.
It looked a hammer blow, until Cove equalised three minutes later.
As they loaded the Blue Brazil box, skipper Eric Watson nodded the ball forward for Megginson to fire a header into the far bottom corner.
On home turf, Beath looked a more capable footballing team. However, Megginson made it 2-1 on 33 minutes.
He won the ball back for his under-pressure side on half way.
Paul McManus then received the ball and charged down the right to fire an inch-perfect centre to Cove's talisman, who by this point had sprinted to the penalty spot to volley into the left bottom corner past the diving McGurn.
On 27 minutes, Watson almost headed his team further ahead, but was denied by the sprawling Beath keeper.
Five minutes after the break, a dubious free-kick was awarded to Sheerin on the right of the Cove area after he tangled with Watson and Swann's low left-footed free-kick somehow went through everyone, including Blair Malcolm's legs, to fool McKenzie.
Sheran hooked Masson for Jonny Smith to try to get Cove going in the Beath half again, but sloppiness had crept into the game.
Ugly football suited Beath and Buchanan saw a shot from 18 yards deflected wide by Darryn Kelly on 66 minutes after a period of home side possession.
However, they took the lead in scandalous fashion on 71 minutes.
How the referee and linesman missed Stuart McKenzie being cleaned out by Sheerin after a clearance is a mystery, but it allowed Brad Smith to fire the loose ball in from 40 yards, despite the best efforts of the keeper to get back.
In horrible, unsporting scenes afterwards, the Blue Brazil players stood taunting the Aberdeen team's fans.
Cove were still fighting for them, though, and Megginson was unlucky to not find a route to goal after rounding McGurn.
However, following Beath's goal, foul after foul was awarded by referee Kirkland, many appearing soft, allowing the desperate Cove no way back into the game as they bombarded the Blue Brazil, who were happy to sit back in numbers and defend their one-goal lead.
McManus was given his marching orders for two quick yellows after complaining to Kirkland about his decisions as the game entered its final minutes.
With 96 minutes played, Milne headed a Cove corner over the bar, before the afternoon descended into pandemonium.
Both teams' coaching staff and benches were on the pitch as players pushed and shouted at each other near the Beath dug-out after one of their players held on to the ball. There also looked to be arms and maybe even headbutts thrown.
In the aftermath, centre-back pairing Scott Ross – for violent conduct – and Watson were sent off for Cove, reducing them to eight men.
Gary Bollan and Sheran, the teams' managers, were ordered off too, while Milne received a booking for his part in the fracas.
It was a sour end to the season and Cove's League Two hopes, which was protested by their fans.
After the season's end promised so much, with the Aberdeen side's Balmoral Stadium set to open over the summer, Cove Rangers now face the dilemma of how to remind themselves of the brilliant season they've had and go again next term.
Megginson said: "I haven't really thought about next season yet.
"I need to take a wee break to let the legs recover from all those tackles I've had.
"We're going to be in the new stadium and we've got the Betfred cup to start us off as well.
"It's going to be another season where we try to win the league and get another shot at it (promotion)."
In the aftermath of the game, Megginson said his remarkable goalscoring tally had been rendered meaningless by the loss. "On a personal note, yes definitely (it's been my best season)," he said. "It means nothing now.
"It's just the way it's set up, it's always against the Highland and Lowland League teams.
"I think to be fair, if they finish bottom they should be relegated and it should be a play-off been the Highland and Lowland League to go into League Two."
Teams:
Cowdenbeath: David McGurn, Fraser Mullen, Harvey Swann, Jamie Pyper, Bryan Gilfillan, Kyle Miller, David Cox, Blair Malcolm, Jordyn Sheerin, Brad Smith, Robbie Buchanan.
Subs: Ben Reilly (Cox 70), Scott Rumsby (Miller 90), Brandon Luke (Gilfillan 90+2).
Subs not used: Blair Penman, Jordan Hornby, Brandon Luke, Mark Fotheringham, Cameron Muirhead.
Cove Rangers: Stuart McKenzie, Alan Redford, Harry Milne, Scott Ross, Eric Watson, Darryn Kelly, Ryan Stott, Connor Scully, Mitchel Megginson, Paul McManus, Jamie Masson.
Subs: Jonny Smith (Masson 60), Dean Lawrie (Redford 76).
Subs not used: John McCafferty, Sam Robertson, Ryan Strachan, Daniel Park.
Referee: Steven Kirkland.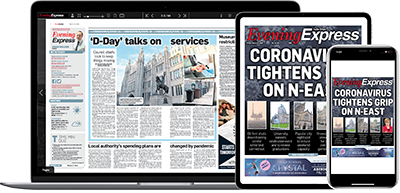 Help support quality local journalism … become a digital subscriber to the Evening Express
For as little as £5.99 a month you can access all of our content, including Premium articles.
Subscribe