It's been nearly 20 years since Scotland last qualified for the World Cup.
And with the national side potentially two wins away from making the playoffs  for Russia we've decided to take a look back at the team's history in the World Cup, as well as a peak at some of the best (and worst) kits that got them to their previous eight finals.
1954
Scotland's first appearance in the World Cup was in Switzerland in 1954.
Despite being able to send 22 men to the finals, Scotland only sent 13 players, with the SFA saying "the preparation was atrocious".
Scotland played only two matches this year due to the tournament's unusual format, losing 1-0 to Austria and, with manager Andy Beattie resigning just hours before kick-off, destroyed 7-0 by Uruguay.
West Germany went on to win the 1954 tournament.
In the first game, Scotland wore their traditional dark blue shirt with white shorts and socks, against Uruguay they wore the same shirt and shorts, but red socks.
1958
Scotland qualified for the 1958 World Cup in Sweden, finishing ahead of Spain. The side was due to be managed by Matt Busby but he was unable to due to his injuries from the Munich air crash earlier that year.
The national side recorded their first point in any World Cup with a 1-1 draw against Yugoslavia –  however, narrow defeats to Paraguay (3-2) and France (2-1) saw Scotland finish bottom of their group.
Brazil went on to win the 1958 tournament.
Against Yugoslavia, Scotland wore their second kit, white shirt, blue shorts and red socks, before reverting to the traditional dark navy shirt, white shorts and blue socks with a red trim against Paraguay.
A hybrid of the two was worn against France in the final game that year. A white shirt, blue shorts and the blue socks with red trim.
1974
It was nearly 20 years before Scotland would again appear in a World Cup tournament.
Despite losing 5-0 to England shortly after Willie Ormond took over the side, they still managed to qualify for their first tournament in 16 years.
Held in West Germany, the 1974 tourney saw Scotland narrowly miss out on progressing from the group stages, losing out only on goal difference.
A 2-0 win over Zaire was the first ever World Cup win for the national side, goals from Peter Lorimer and Joe Jordan securing the points.
Scotland followed up that result with a 0-0 draw against Brazil and 1-1 draw against Yugoslavia, Joe Jordan grabbing his second goal of the tournament.
However, the side's failure to score more against Zaire led to them missing out on the second round.
Against Zaire and Brazil, Scotland wore their Umbro-designed dark navy blue shirts, white shorts and red socks, with blue stocking tags. Their final game of the tournament, against Yugoslavia, saw them turn out in an all-white kit.
1978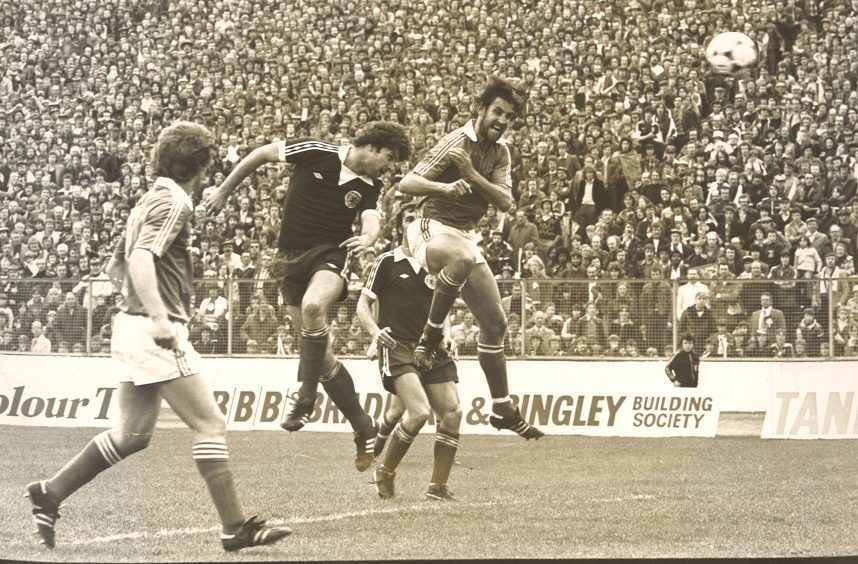 Scotland qualified for their fourth World Cup, and second successive finals, with wins over Czechoslovakia and Wales.
Confidence with high this year – boss Ally MacLeod declared they would return home from Argentina with a medal. Fans packed Hampden and lined the route to Prestwick to give the national side an incredible send-off.
Commemorative stamps were even commissioned by the Royal Mail in case Scotland won.
However, the tournament got off to a poor start with a 3-1 defeat at the hands of Peru, followed by a 1-1 draw against Iran.
A 3-2 win over the Netherlands, including what is widely considered one of the greatest World Cup goals ever, by Archie Gemmill, wasn't enough to see them through, with Scotland losing out on goal difference.
The 1978 World Cup was the first to see Scotland wearing Umbro's diamond logo down the sides of the dark navy sleeves and shorts (both a white and dark navy version were created) as well as featuring across the top of the red socks.
That year's cup was won by hosts Argentina.
1982
Scotland's qualification for the 1982 World Cup in Spain was the third successive tournament for the national side.
With Jock Stein at the helm, Scotland overcame a tough qualifying group to be placed into that year's "group of death", facing off against Brazil, the Soviet Union and New Zealand.
For the second World Cup in a row, Scotland were again eliminated due to goal difference. The national side won their opener against New Zealand 5-2, before suffering a heavy 4-1 defeat to Brazil. A 2-2 draw against the Soviet Union meant the two sides finished level on points, however they had conceded fewer goals in the tournament.
A win could have been possible against the Soviets, if it wasn't for defenders Alan Hansen and Willie Miller colliding, allowing the opponents to score.
This was the seocond year to feature a brightly-coloured shirt for Scotland (the first red shirt had been introduced in 1980). Their second kit featured a bright red shirt with fashionable fine pin-stripe, blue collar, blue shirts and white socks, with a red Umbro trim.
However, this kit was not used during the World Cup, with Scotland facing off against all three opponents in their iconic dark navy blue shirt, white shorts and red socks with a white Umbro trim.
The 1982 tournament was won by Italy, their third World Cup Title.
1986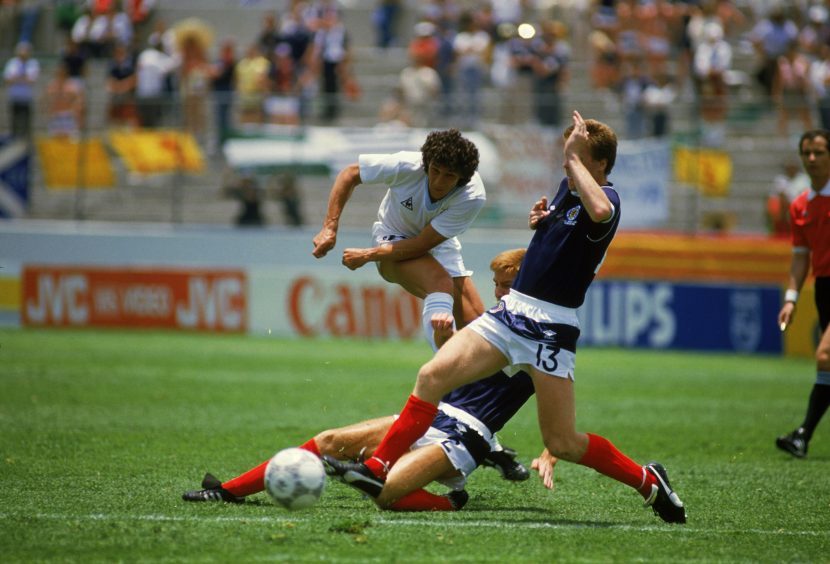 The build-up to the 1986 tournament in Mexico, Scotland's fourth in a row, was mired by tragedy.
Manager Jock Stein suffered a heart attack and died shortly after his side secured qualification to the tournament on September 10, 1985. His assistant and Dons manager, Alex Ferguson, took charge for the remaining qualifying game as well as the World Cup.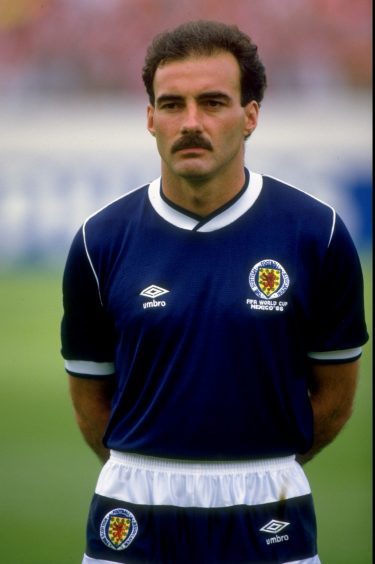 Scotland only managed one point that year, a goalless draw against Uruguay in the final game of the group. They had lost both previous games, a 1-0 defeat at the hands of Denmark and a 2-1 defeat by West Germany, who finished eventual runners-up.
The 1986 finals kit, again by Umbro, was made using Aertex, one of the earliest performance fabrics. The solid dark navy kit featured a large Scotland badge with FIFA World Cup Mexico '86 embroidered beneath. The shorts were white with a solid blue horizontal band across the middle, the kit was worn with red socks.
The second kit, although not worn during the tournament, was bright yellow, with blue shorts featuring a yellow horizontal band and yellow socks with a blue horizontal trim.
1990
The fifth successive tournament for Scotland, Italia '90, featured a distinctive collar on the navy blue home kit, along with pin-stripes and a redesigned badge. An unforgettable yellow, white and blue away kit was also created by Umbro along with some questionable "active shirts" and shell suits.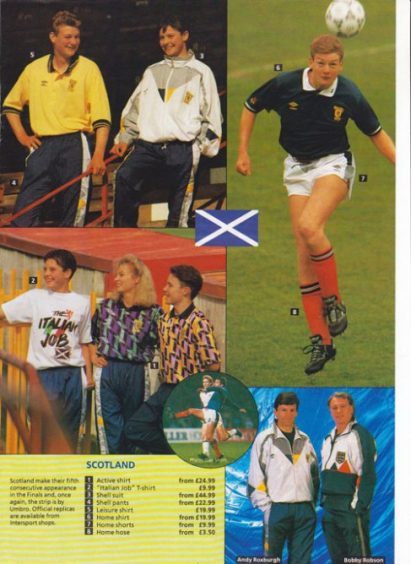 It was this yellow, white and blue shirt that was worn for Scotland's first game of the tournament, a 1-0 defeat to Costa Rica. After the defeat the kit was reportedly criticised by then manager Andy Roxburgh. For the final two matches, a 2-1 win over Sweden, and a 1-0 defeat to Brazil, the dark navy kit was worn.
1990-1996
Despite not appearing in the 1994 World Cup, it would be impossible to ignore the alternative kits that were created around that period.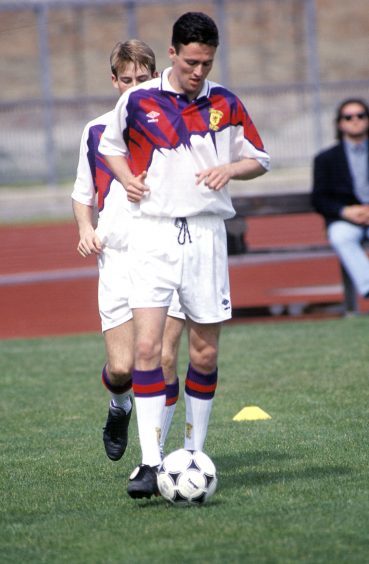 Between 1991 and 1993, Scotland had the option of an abstract design, dubbed "the slasher" by some. The white shirt featured a bizarre red flash diagonally across the shirt with purple teeth and purple or white shorts. The shorts themselves featured a splash of red on the thigh.
In 1993 the white slasher kit was done away with, instead replaced with a salmon pink shirt with purple stripes, purple shorts with pink trim, and pink socks with purple trim.
Just in time for Euro '96, both Scotland's kits were given an overhaul.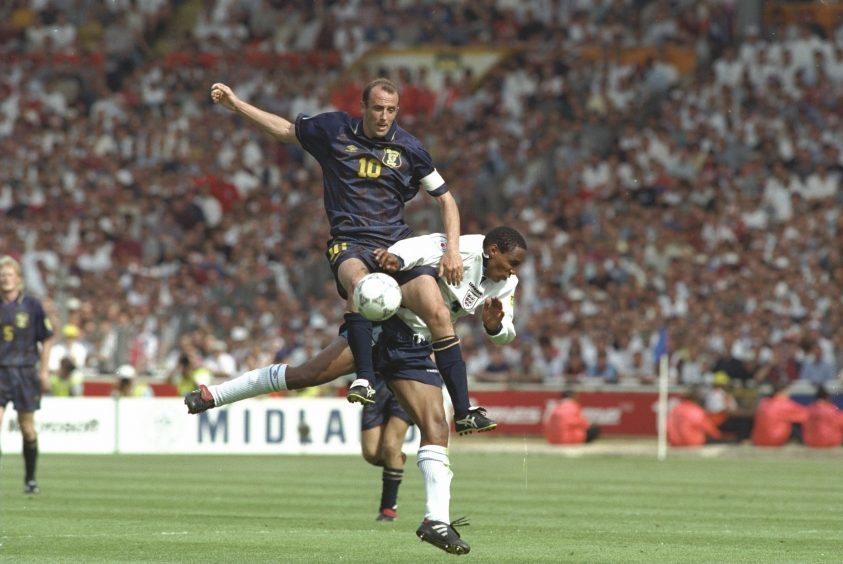 The patterned navy blue shirt was replaced with a tartan shirt with blue sleeves and shoulders with matching tartan shorts. The change kit featured a very 90s abstract design of purple, green and blue sharp angled shapes on a white shirt.
1998
Scotland returned to World Cup action in France '98. The refreshed Umbro kits had seen a return to navy and yellow in time for Euro '96 and were just given a minor refresh ahead of this tournament.
The home shirts now featured a dark blue horizontal bands across the blue shirt, while the change kit was gold with a thin pin-stripe.
After a strong performance in qualifying under Craig Brown, Scotland were placed in a group with Brazil, Norway and Morocco.
Defeat to Brazil came in the worst possible manner, after levelling the score to 1-1 through a John Collins penalty, a mistake by Tom Boyd led to an own goal. Scotland then went on to draw 1-1 with Norway, but suffered an embarrassing 3-0 defeat at the hands of Morocco leaving them bottom of the group.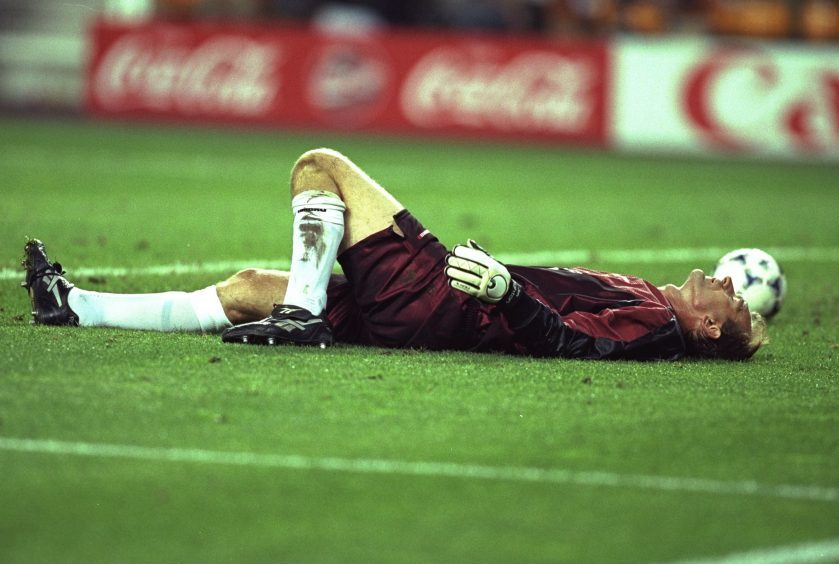 Since then, Scotland have failed to qualify for the World Cup.