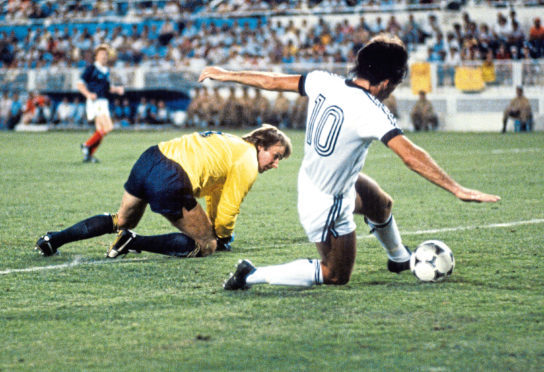 Willie Miller thinks more should be made of the national team conceding twice against New Zealand in the story of their 1982 World Cup exit.
Jock Stein's Scotland left Spain before the second round – and after conceding an infamous goal in their final group game against the Soviet Union.
The meeting with Konstantin Beskov's men at La Rosaleda in Malaga ended 2-2, giving the second-placed Russians a goal difference in group six, two better than the Dark Blues and sending them home.
After a 5-2 win against New Zealand and 4-1 loss to Brazil, the Scots went into the game level on points with the Soviets, who had their most-capped player Oleg Blohkin among their ranks, knowing they had to win.
Joe Jordan had put Scotland 1-0 up on 15 minutes before Aleksandr Chivadze levelled things with half an hour to play.
Disaster struck on 84 minutes – a long ball out from the Russian side was headed backwards by centre-back Alan Hansen, who'd been dragged to the right flank by forward Ramaz Shengelia.
Hansen's defensive partner, Aberdeen legend Miller, came across to hammer the ball out for a throw, but Hansen collided with him, leaving Shengelia to run through, beat keeper Alan Rough and score.
Scotland equalised three minutes later through captain Graeme Souness, but couldn't find a winner.
Miller knows he and Hansen weren't suited to playing together and this contributed to the famous mix-up, and afterwards, the three-time European Cup winner Hansen falling down the international pecking order.
He said: "I thought it was my ball.
"Me and Alan – it was like pouring petrol on fire. It was never a combination that was ever likely to work, I didn't feel.
"He was too similar to me.
"If he'd been a centre-back, I probably wouldn't have got involved in that challenge, but when I played with Alan I had to change my game to be more aggressive and more of the number one centre-back.
"We were both sweepers.
"My recollection of that game is that I was doing most of the physical challenges.
"I've always said I thought Roughy could have done a bit more to stop the ball hitting the back of the net, but you've got to take responsibility for your actions.
"I thought overall on the day, although different, my game was good.
"I was playing with a player who played so differently to Alex McLeish, who I was used to."
When the draw for the tournament was made, Miller admits Scotland knew the result of the meeting with Russia on the Costa del Sol would always make or break their chances of progressing.
However, looking at the final group six table from the 1982 showpiece, Miller is correct to say the two goals conceded in the opening win over minnows New Zealand ended up being as – if not more – significant than the Soviets' second.
Stein's men were 3-0 up after half an hour, before letting the Kiwis bring the score back to 3-2.
Aston Villa's Alan Evans was chosen to partner Hansen in that game – something which clearly still rankles with Miller.
He said: "I didn't play and Alan Evans was brought in, who had just played with Aston Villa when they won the European Cup just prior to the World Cup.
"I'm assuming big Jock gave him the nod to compliment his European Cup winner's medal.
"It didn't really please me too much, but I just had to get on with it.
"New Zealand were the out and out minnows of the tournament and I think the bearing of losing the two goals to them obviously has an impact on us not qualifying.
"It's never spoken about.
"That game passed me by. I was feeling pretty down and depressed about being left out of the opening game of the World Cup.
"Jock Stein gave me most of my caps, which I'm eternally grateful for, but on a couple of occasions he left me out for reasons that are still a bit unknown to me. That one hurt. But obviously I got the opportunity against Brazil."
The loss to a lauded Selecao side featuring Zico, Eder and Socrates – the iconic midfielder, who Miller witnessed drink beers and smoke cigarettes as the pair waited for a random drugs test at full-time – was nothing to be ashamed of, despite David Narey firing the Dark Blues in front from distance.
And the match, which Miller said will "always remain" with him, contributed to the Gothenburg Great's good memories of the setting and games at Spain 1982.
He said: "In '78 the SFA had learned a lot of lessons from the trip to Argentina and how it had affected the players, how poor the facilities were.
"In '82, under Jock Stein as well, there was more emphasis put on the preparation and the accommodation.
"There wasn't an issue for me in how we were looked after – the hotels were good, the food was good, the facilities were good.
"It was pretty positive."
Miller, who by 1986 was paired with club-mate McLeish for the national team – the Reds won the European Cup Winners' Cup less than 12 months after the Scots' Spanish adventure – added: "I don't think you can ever class even not qualifying (for the next round) the World Cup as being a low.
"I didn't feel, coming home from Spain, that it was anything other than a positive experience.
"The most important thing for me was to maintain my international standing and push on with Aberdeen – and that happened.
"If you go back to me and Hansen, it was Hansen who lost his international place and I went on to earn another 50 caps."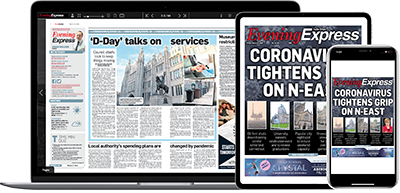 Help support quality local journalism … become a digital subscriber to the Evening Express
For as little as £5.99 a month you can access all of our content, including Premium articles.
Subscribe