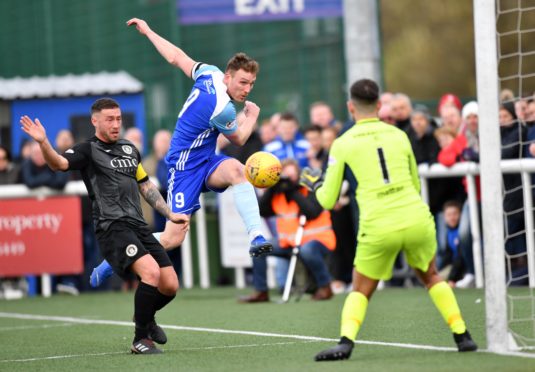 Peterhead captain Rory McAllister has been given extra motivation to win League Two after becoming a dad for the second time.
The Blue Toon striker was in action in Saturday's 0-0 draw with title rivals Edinburgh City at Ainslie Park.
McAllister was playing just 24 hours after wife Ashley gave birth to their second son Rafe.
Over the last couple of weeks it has been a waiting game for the baby to arrive.
McAllister was delighted after he was born on Friday and hopes to make it a memorable couple of months by helping Peterhead to title glory.
He said: "It's been a bit mentally draining for me over the last couple of weeks. But I can't complain because my son was born on Friday, I played and we didn't lose and I want us to push on as a team.
"It was good that Rafe was born and my wife got out of hospital on Saturday afternoon so I was keen to get back up the road and see them.
"It would be good at the end of the season to get a photo with the championship trophy with me, my wife and my two sons.
"That's what I want and hopefully in six weeks' time we can do it."
McAllister had a number of chances in the first half but was denied repeatedly by City goalie Calum Antell.
McAllister added: "Missing the chances were frustrating but I hadn't played for a fortnight and I hadn't even done too much training with what's been going on.
"But the boys in defence bailed us out for missing chances because they were different class.
"Jason Brown, Mick Dunlop, Paddy Boyle and Callum Home coming in at right-back were all different class.
"You can't win every game so sometimes you have to make sure you don't lose.
"We probably should have won because over the course of the game we were the better team.
"We were hanging on a bit in the second half, but we came here to win the game.
"We didn't get it, we got a point and we're still five clear."
The game began after a 10 minute delay to let the crowd of 1,057 into Ainslie Park.
In the first minute a slack back pass from Mark Laird allowed McAllister a chance but his low 18-yard shot was tipped wide by Antell.
On 19 minutes McAllister tested Antell again with a free-kick from 30 yards.
Soon after, Antell held a low McAllister shot from 20 yards and in the 25th minute Shane Sutherland's angled strike deflected off Liam Henderson for a fruitless corner.
Before half-time the Edinburgh goalie also kept out a Willie Gibson free-kick from 30 yards with a flying save and pushed away McAllister's cute flick. In the second period City did threaten as they looked to narrow the gap between the teams to two points with a win.
On 58 minutes Bradley Donaldson headed into the side netting from close range after meeting Adam Watson's cross from the left.
Four minutes later Blair Henderson headed Robbie McIntyre's centre from the left wide.
Peterhead didn't create the same chances after the break but they defended well, having to deal with numerous high balls into their box in the closing stages as Edinburgh desperately searched for a winner.