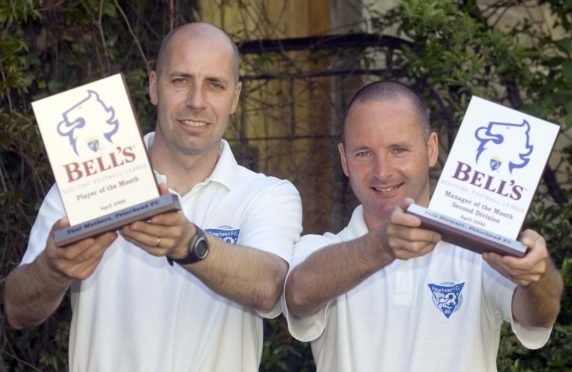 In the second of our six-part series on Peterhead's 20 years in the Scottish football league, former keeper Paul Mathers, full-back Mark Perry and chairman Rodger Morrison describe almost reaching the second tier in 2006.
Paul Mathers thought Peterhead had done it, he didn't expect to see the ball again.
Instead, the Blue Toon goalie and assistant manager ended up picking it out of his net as their bid for promotion to the First Division came up agonisingly short.
In 2005-06, manager Iain Stewart and No2 Mathers guided the Buchan side to third in the their first season in the Second Division.
In the play-offs Dougie Cameron's penalty at Balmoor secured a 1-0 aggregate win against Morton over two legs to set up a final meeting with Partick Thistle.
A fine 2-1 win was achieved in the first leg at Firhill with Graeme Sharp and Martin Bavidge on target after Billy Gibson had given the Jags the lead.
Three days later at Balmoor, Bavidge made it 3-1 on aggregate early on, but Mark Roberts quickly pulled one back.
Then, deep in injury time, Gibson's free-kick took a nick off Cameron and wrong-footed Mathers and following a goalless extra-time period penalties were required.
Cameron and Keith Gibson missed for the Blue Toon as they lost the shoot-out 4-2, despite Mathers' save from Robert Snowdon's effort.
It remains the closest Peterhead have come to reaching the second tier of Scottish football in the 20 years since stepping up from the Highland League.
Looking back Mathers said: "We finished third so to be in among those full-time teams gave us great confidence and it was a great achievement and we just seemed to keep going.
"In the play-off semi-finals we were very confident playing Morton over two legs and the same against Partick.
"Things stick in your mind and Bobby Linn won't like me saying this, but he should've scored to make it 3-1 at Firhill when he was through on goal and you'd have put your mortgage on it, but it didn't happen.
"Then, on the Sunday it was tough, I remember the board went up and it said three minutes (stoppage time) and I melted a goal kick right into the far away corner and I thought 'I won't see that ball again.' Unfortunately I did and it was picking it out of the net.
"The free-kick was going miles past and then the deflection put it in and I didn't really have a chance, although as a goalie coach now I'm questioning my position for it.
"Over the two legs we were the better team by far and felt we deserved to go through. Even down at Firhill we played really well and deserved to win that game and then started well at Balmoor and maybe should have been out of sight because we dominated.
"That hurts probably more than the last-minute goal. We felt we didn't deserve to lose and the penalties were a lottery and I didn't save enough. Unfortunately we came out on the wrong side and it's brutal even thinking about it.
"It was a great few months because everything around the club was so buoyant up to the play-offs and we all fed off that."
After a loan spell with Peterhead in the 2001-02 season Mathers joined the club permanently in the summer of 2002 while continuing to coach at former club Dundee.
He was between the sticks as they missed out on promotion from the Third Division on the final day of the season in 2003.
And, when Ian Wilson was sacked in December 2003, Stewart stepped up from player to manager with Mathers becoming his assistant.
In their first full season, they guided Peterhead out of the Third Division, finishing second 20 points behind Gretna, but 27 ahead of Cowdenbeath in third.
Mathers, now St Johnstone's goalkeeping coach, added: "It was a surprise to me when we got the jobs.
"Iain was coming to the end of his playing career more than me and it did come out of the blue.
"But once we spoke about it, we decided it was too good an opportunity to turn down with the good squad that was there.
"We got promoted, but finishing as far behind (Gretna) as we did, didn't really give a clear picture of how well we'd done.
"For us in our first full season in charge, it was a successful one and myself and Iain had decided on day one of pre-season and we said to the players we wouldn't accept anything less than promotion and as a group we never spoke about anything else.
"I think that approach helped, but it was a great team with Mark Perry, Craig Tully, Robbie Raeside, Jamie Buchan should have been playing at a higher level, and there were guys like Martin Bavidge, Scott Michie and Bobby Linn as well."
Other memorable moments of Stewart and Mathers' reign were a Scottish Cup tie against Rangers at Ibrox in January 2006 and a League Cup clash at Easter Road against Hibs in August 2006.
Their time in charge was brought to a sudden end in October 2006 when they were sacked with the club seventh just three points outside the play-offs.
Mathers said: "We knew at some point myself and Iain that we'd lose our jobs, but we expected that to be when results weren't going well.
"And when we did lose our jobs we weren't doing that badly at the time and I felt bad because in the second last game I flogged a goal in the last minute against Alloa.
"That was the only negative when we left the club, because we felt we didn't merit it – but it was a really enjoyable and successful two-and-a-half years for us.
"I loved my time at the club and still keep in touch with people at the club even now."
Mark Perry: 'It's tough to take, but if you look back to where we got to in that first season, it was a great achievement'
Mark Perry classes his eventful four years at Peterhead as some of the best of his career.
The former Dundee United, Aberdeen and Ross County defender joined the Blue Toon in January 2003 and experienced plenty of ups and downs in his time at Balmoor.
Having joined in early 2003, Perry was part of the side which missed on promotion from the Third Division on the final day of that season.
Two years later, under Iain Stewart, the Blue Toon did get out of the fourth tier, going up in second behind Gretna and, in 2006, they were within seconds of promotion through the play-offs to the First Division.
Reflecting on the historic first promotion in 2005, Perry said: "It was a great season to be involved in and it was a great team. In the four years I was there we always had great team spirit and morale, which I think helped.
"That year Gretna were basically full-time in the Third Division and were spending bigger money.
"Whereas we were part-time and maybe bringing guys in on loan or players that were moving down the leagues. Boys like Craig Tully and David Hagen came in, Keith Gibson, Bobby Linn came, Scott Robertson joined on loan and you could see he was a class act.
"Jamie Buchan was another that joined and he was an outstanding player for Peterhead. Scott Michie joined and he and Martin Bavidge scored a lot of goals which helped get the club promoted."
Although the manner of their play-off defeat to Partick Thistle hurts, Perry still looks back on the 2005-06 season, which included a Scottish Cup tie against Rangers at Ibrox, with fondness.
The former Peterhead captain added: "I suppose it was sickening what happened against Partick Thistle in the play-off.
"It's tough to take, but if you look back to where we got to in that first season in the Second Division we had a great season and it was a great achievement.
"But at the time you don't even consider that because of the manner of the defeat.
"It would have been great for the club and for all the players to make it back-to-back promotions and go up to the First Division, but that's football.
"I think that (the Scottish Cup game against Rangers) was the first really big cup tie the club had after coming into the league and the following season we played Hibs at Easter Road in the League Cup.
"Against Rangers there was about 40,000 there and we got battered. I think it was Kris Boyd's debut for Rangers and he scored a hat-trick.
"Despite the score, it was still a great learning experience for us as a team and a great day for the club and a good earner for the club.
"It wasn't easy for whoever was up against Boyd – I think it was Craig Tully that bore the brunt – I was at right-back up against Chris Burke so I didn't get the blame."
Perry departed in January 2007 and said: "It was a great four years at Peterhead. Maybe I should have stayed for longer.
"Iain Stewart and Paul Mathers had left the club and Steve Paterson came in, and he was a great, but I just felt it was time for a change of club and that's why I left.
"It was a great four years and it's a great family club."
'Not going up in 2006 is my biggest regret' – Chairman
In his 15 years of chairmanship of Peterhead, it's Rodger Morrison's biggest regret.
In 2006 Peterhead were on the cusp of promotion to the then First Division under manager Iain Stewart.
It was the first season the play-offs had been introduced and after defeating Jim McInally's Morton in the semi-final the Blue Toon faced Partick Thistle at Balmoor in the second leg of the play-off final.
The Buchan side were seconds away from victory but a stoppage time equaliser followed by extra time and a penalty shoot-out defeat meant they narrowly missed out on back-to-back promotions.
It remains the closest Peterhead have come to reaching Scottish football's second tier.
Chairman Morrison said: "The biggest regret was the penalty shoot-out defeat to Partick Thistle to get into what is now the Championship.
"Iain Stewart did very well as a manager and Paul Mathers as his assistant worked well alongside him and we shocked many that season as we had only just been promoted to the Second Division the previous year.
"Iain worked very hard to get us there, he was always terrifically well organised and always looking for something more, anything he thought would improve the club was his top priority.
"As a chairman it's good to have somebody that's driven and you will do all you can to meet those demands to be successful."
Stewart was the man who secured Peterhead's first promotion in the Scottish Leagues, with a second-placed finish behind Gretna in the Third Division enough to take them up in 2005.
Following the close shave with reaching the First Division Stewart was surprisingly sacked in October 2006, but Morrison says nothing can detract from the job he did as manager.
He added: "That was a wonderful achievement and a big moment for the club (the promotion in 2005).
"Iain drove that forward, he was very ambitious and determined and ensured everything was always properly prepared.
"He was a gamble to appoint as manager because he was a player when he was made manager, sometimes those sort of gambles don't work out.
"But Iain did very well and brought the club success.
"Towards the end of his time after missing out on promotion the wheels started to come off a bit and maybe our relationship soured but nothing can detract from his achievements at Peterhead."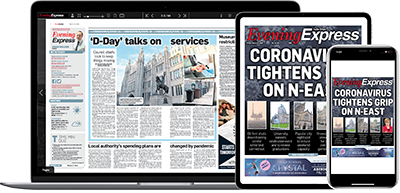 Help support quality local journalism … become a digital subscriber to the Evening Express
For as little as £5.99 a month you can access all of our content, including Premium articles.
Subscribe