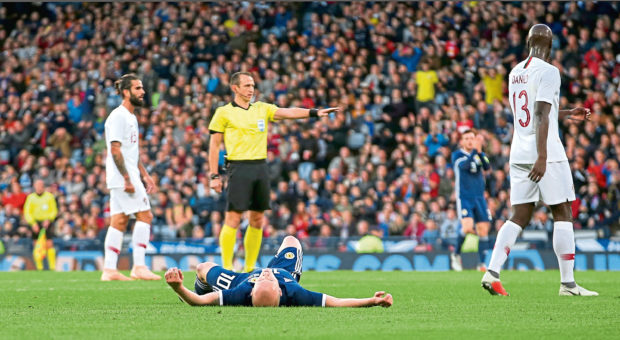 Scotland boss Alex McLeish said his side were "perpetrators of their own mistakes" after they lost 3-1 to Portugal at Hampden
Despite a decent enough first- half where Scotland showed they could create half-chances against the Portuguese second string, in reality the visitors cruised to victory.
Even with a late first-half tap-in for Helder Costa, the Scots showed intent after the break to level the game.
They didn't have any luck though, and after a quiet spell where Portugal knocked the ball around their own half, Eder ghosted in to bullet a header past keeper Craig Gordon before Bruma curled home another.
The latter two goals were mistakes on the Scots' part.
There was a late Steven Naismith consolation, with Aberdeen's Gary Mackay-Steven providing a backheeled assist, but the Dark Blues' performance against one of Europe's top teams lacked cutting edge.
After Thursday night's disappointing UEFA Nations League loss to Israel in Haifa, there may now be increased concerns for the Scots' ability to top their pool and hold on to another shot at qualifying for Euro 2020.
McLeish claimed his squad will have been lifted by their showing against Portugal.
McLeish, who pointed to the 4-0 loss to Belgium last month as playing out in a similar way to last night, said: "We shot ourselves in the foot against the two top teams, Belgium and Portugal, it was basic errors we made. That's the disappointing aspect of it.
"The top teams will cut through you with majestic skill and leave you trailing but we were the perpetrators of our own mistakes.
"I thought we played , there was a lot of good football, we had a good gameplan, the structure of it, we were compact and we pressed when we tried to press. We stayed high on the goalkicks and we tried to build ourselves.
"We knew we were playing against top quality players, and I know there were Portugal players rested but there was still a hell of a lot of money out on that pitch."
McLeish switched to four at the back after a lot of criticism about the three centre-backs used during his second reign as national boss, which has left some players out of their usual club positions. Something which was widely blamed for the Scots' chaotic defending against Israelis.
He used a centre-back pairing of Celtic's Jack Hendry and Aberdeen's Scott McKenna against the Portuguese.
Of the change in set-up, McLeish said: "We want to adapt to certain formations. The Russians in the World Cup played four at the back and in certain games they played three. It's about getting the right balance. For the Albania game (a 2-0 win at Hampden in the Nations League opener) it (three at the back) really worked."
However, McLeish refused to rule out reverting to three centre-backs for the next Nations League clash – a must-win away to the Albanians before Israel visit Hampden – although he will be looking to set-up for a much better performance than the two losses on Thursday and last night.
Asked whether he was concerned over repeated defensive errors costing his team goals, he pointed to the youth of the Scotland stoppers and said his whole team reduced the amount of risks they were taking.
He said: "There's young players there, a lot of them are learning their trade. Some came in during the summer when we needed new recruits.
"It's not easy for guys to come in and be top internationals within three or four caps."
McLeish went on to use Northern Ireland's Michael O'Neill as an example of a boss who has gone on to great success after a testing opening spell in charge of their country, saying he is "resilient" enough to maintain his self-belief he can lead Scotland back to success.
The boss also refused to say whether he expected Celtic's Leigh Griffiths, who ruled himself out of the squad amid reports he was unhappy at being left on the bench in the last game against Albania, to be back.
McLeish said: "I had a chat with Leigh last week and he said physically he had to get better. That's his choice.
"I admire him for that and he wants to get to a level of fitness where he can blow Brendan (Rodgers) away and blow the nation away."
He added: "I'd love to see anybody in the squad who's scoring loads of goals, who looks a real threat and is at his full sharpness."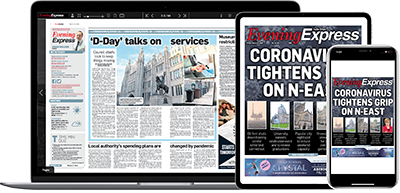 Help support quality local journalism … become a digital subscriber to the Evening Express
For as little as £5.99 a month you can access all of our content, including Premium articles.
Subscribe