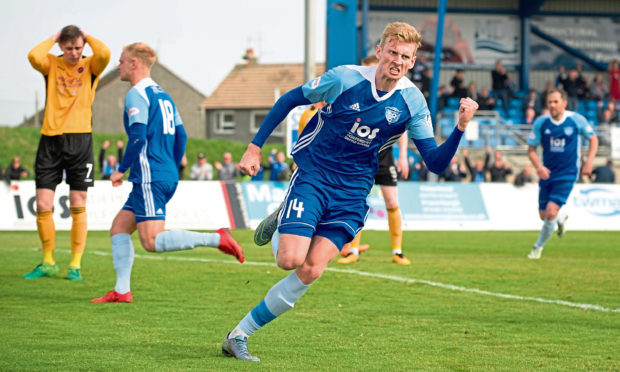 "Daft but different" is Russell McLean's view of the Irn-Bru Challenge Cup.
But despite not being a massive fan of the tournament, the Peterhead striker is hoping they can surprise Bohemians.
The cup for teams outwith the Scottish Premiership has changed significantly in recent years with the SPFL inviting teams from Northern Ireland, the Republic of Ireland, Wales and England into the tournament as well as Premiership colts teams.
On Saturday the Blue Toon face League of Ireland side Bohemians at Balmoor in the second round.
McLean is not a huge fan of the changes to the competition but he is still keen to spring a surprise against the full-time team from Dublin this weekend.
Asked for his take on the cup and Saturday's game, he said: "It's different, daft but different, it's a Scottish competition and it's been that way for years.
"Then you're bringing in Irish, Welsh and English teams, you could have had us travelling from Peterhead down to London.
"I don't think it's right but it is what it is.
"This is a free hit for us. We want to beat them and if we do it's happy days.
"But if we get beat then we're out of a cup where, realistically, if we're going to do anything in it it will be unexpected.
"It's a game where boys that haven't been playing will maybe get a chance.
"We look forward to it because the main objective for us is winning the league and anything in cup games is a bonus.
"We'll look to get back on track because you don't want to lose two on the bounce.
"You want to get back to that winning feeling again."
Peterhead are still licking their wounds after suffering a first league defeat of the season last weekend.
Edinburgh City beat the Blue Toon 1-0 at Balmoor to leapfrog them at the top of the table.
McLean was bitterly disappointed with that display and admits the Buchan team were well below par.
The 20-year-old added: "I don't really know how to sum it up because to call it a bad day at the office wouldn't really be fair.
"Nobody was anywhere near good enough on Saturday.
"When everyone is not good enough what chance have you got?
"In the first half we did all right in terms of going in at 0-0.
"We created a couple of chances but we can't just resort to booming it long because it doesn't work for us.
"It's so disappointing to drop points at home.
"Saturday is a bit of a reality check when we had been winning.
"It shows that there are teams in this league that are going to challenge with us."