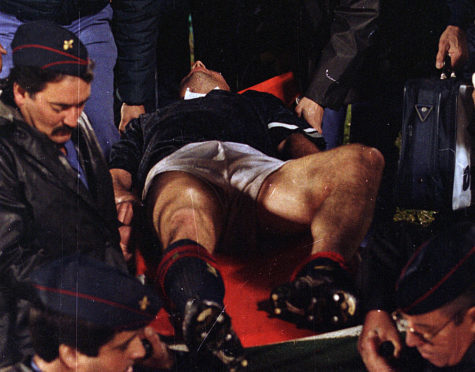 He played against Portugal in a match that marked the end of an era for Scotland.
Now Jim McInally hopes tomorrow's friendly with the same opponents can kick-start a new era for the national team.
Portugal, who are without superstar Cristiano Ronaldo, visit Hampden as the Scots look for some positives after the 2-1 UEFA Nations League defeat over in Israel.
Dundee United legend McInally won the last of his 10 Scotland caps in a 5-0 defeat to Portugal in April 1993, in a World Cup qualifier.
That heavy loss marked the beginning of the end for manager Andy Roxburgh as the Dark Blues failed to reach USA '94, and a number of players who featured in the drubbing in Lisbon were never selected again.
McInally said: "It was a horror occasion, I was playing at left-back that night.
"We had quite a lot of possession and corners but they just kept counter-attacking on us.
"Rui Barros and Jorge Cadete scored two each and Paulo Futre got the other – they were all wonderful players.
"That was also the night Ally McCoist broke his leg and we were all gutted.
"It was always an honour to play for Scotland and that was my last cap in the Stadium of Light in Lisbon.
"That game was the end of a few careers, but I was selected for the next squad and I couldn't go because I was injured.
"There were a few people didn't get called up again but I was and couldn't make the next squad.
"Andy Roxburgh resigned at the end of the qualifying campaign so that was close to the end of an era.
"After the Portugal result there was a massive outcry and when we didn't qualify it was a situation where heads had to roll."
If that match was the beginning of the end of Roxburgh's time in charge, McInally hopes a positive result for the Scots tomorrow can mark the start of a new era of success under Alex McLeish.
The Peterhead boss added: "You hope we are looking at the start of a new era for Scotland.
"It is a new era of management and hopefully it's a new era in terms of qualifying. You look at the ladies game and the euphoria with them qualifying so who knows what would happen if the men managed to qualify.
"If you look at the Scottish Premiership just now, it's healthy with some good teams in there.
"Names such as John Souttar, Scott McKenna, Kieran Tierney, Andy Robertson, Callum McGregor and John McGinn should whet the appetite of fans.
"From middle to front there is enough talent there and we saw that in the first Nations League game against Albania.
"They aren't the worst country in the world – they reached the last Euros – and Scotland gave them an absolute doing for 45 minutes."
The showing in Israel has, however, set the alarm bells ringing again among the Tartan Army. McInally already had reservations about McLeish's tactical approach.
He said: "Defensively I don't understand why Alex is trying to fit two left-backs in Kieran Tierney and Andy Robertson into the team.
"I would like to see Tierney at right-back instead of trying to make 3-5-2 work.
"But every game is different and may require changes of shape but that's what I would like to see.
"With Souttar, I was intrigued by all the stuff that came out from Craig Levein and Dundee United recently.
"I used to watch John a lot when he was coming through and I was of the same opinion as Craig Levein that he was being brought up as a footballer rather than a defender.
"I think the penny has now dropped that the defending is more important than anything else.
"You can partner him with Scott McKenna, and McKenna has had proper grounding at Aberdeen because Derek McInnes and Tony Docherty know the value of being a good defender before anything else.
"I think if Souttar and McKenna could be left to play together you have a partnership potentially for the next 10 years and more.
"Scotland are blessed with enough good players and, if they click, then we can do well."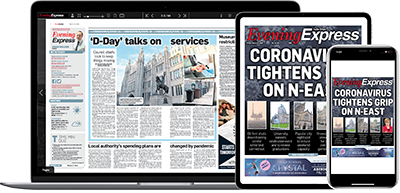 Help support quality local journalism … become a digital subscriber to the Evening Express
For as little as £5.99 a month you can access all of our content, including Premium articles.
Subscribe