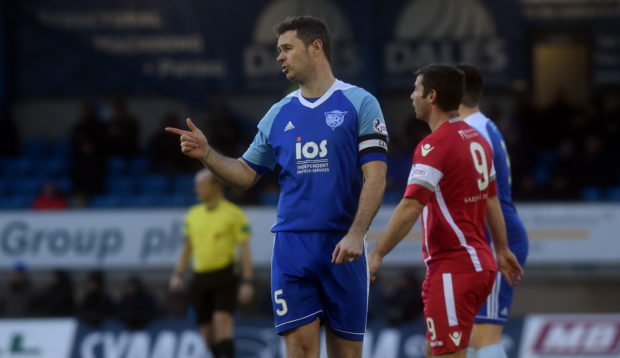 In Scottish football coaching and management opportunities are few and far between for those without experience.
Countless professionals have drifted out of the game towards the end of their playing career after being unable to break into coaching or management.
David McCracken is thankful he's not in the same boat.
Last season the 37-year-old became a player-coach with Peterhead and will continue to be part of the management team this campaign.
The former Dundee United, St Johnstone and Falkirk defender hopes he can continue to develop and improve as a coach as the Blue Toon return to League One this season.
McCracken said: "I'm really happy to be carrying on with the club after the success of last season winning the League Two title.
"I really enjoyed last season in terms of the work I was doing on the coaching side of things.
"I didn't really play, but I knew that would probably be the case at the start of the season.
"Being a coach is a different type of experience and you get a different feeling when you're training boys and see them progress.
"This time last year when the gaffer Jim McInally spoke to me about doing more coaching he asked if he could give me free rein.
"He said if there were any ideas I had for sessions or anything I wanted to add in to training or anything like that to just tell him.
"He said him and David Nicholls (assistant manager) would look at it and then let me get on with it.
"That's what happened, I've been given a lot of scope to do stuff in training and take parts of training.
"It's good to get some feedback from the players as well on what they think about the training.
"Going into this season there's other stuff I want to implement – I will run it by the gaffer first and discuss it and see where we go.
"But it's all about helping the players, the team and the club progress."
McCracken's work with the entire squad, as well as specifically with the Balmoor defenders, has been valued by manager Jim McInally.
McCracken hopes he can continue to play an important role for the Blue Toon in Scottish football's third tier.
He believes he has more ideas and confidence on the training field and added: "It's the same as being a player really in that the more you coach the better you get at it.
"Most things in life are like that and last year the more I was doing the better I felt about it.
"As a result I was getting more ideas and more confidence as a coach.
"This season is just about trying to progress that again and make sure in training we are implementing the things that got us success last season. It will be a tough season with the teams in League One but we know we've got a good squad and good players."
Looking ahead to the League One campaign, McCracken said: "Initially we'll just stabilise and try to get ourselves picking up points and moving in the right direction in League One. We'll find our bearings and see where we go from there.
"We look at how well Montrose did in League One last season so we can take heart from that.
"We don't know how it will go, but we want to make it another good season."