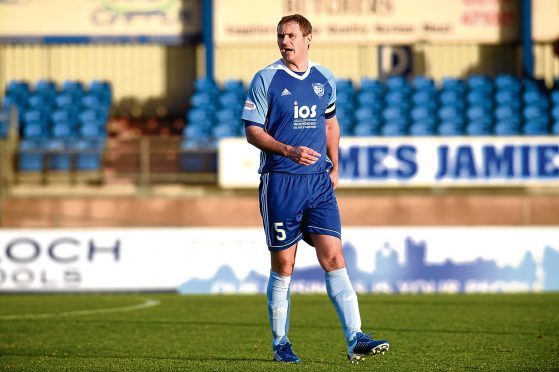 David McCracken is "excited" to have the opportunity to coach at Peterhead.
The centre-back has rejoined the Blue Toon for next season in a player-coach role.
McCracken helped to mentor young defenders Jason Brown and Mason Robertson last season which prompted manager Jim McInally to ask him to return as a defensive coach while also still being available to play.
The 36-year-old is pleased to have been given his first chance as a coach. McCracken said: "I'm excited to have the opportunity and still be at Peterhead.
"When I wasn't playing last season for whatever reason I was encouraged to be in the dug-out and speak to the boys during the game.
"I'll be doing even more of that next season and I'm delighted to take the step into coaching.
"The option of still playing is there if I'm needed but I'm more concentrated on the coaching side. I'm excited to bring a lot to training and the games and bring the experience I've got behind me.
"I'm bringing my outlook on the game and offering that to the boys. it's going to be a good year I think."
McCracken enjoyed passing on his experience to Brown and Robertson last term and says that coaching was always something he felt he could go into.
He added: "I've always had the natural feeling to pass on information to people.
"The more my career has gone on the more experience you have, if you need to pass on any experience then you can.
"I think it's important to pass on experience, especially in my position of centre-back.
"I did that with Jason Brown and Mason Robertson last season.
"Over the last couple of years I've been focusing more on fitness and strength and conditioning with my part-time job (as a personal trainer).
"I was also full-time at Falkirk last season doing strength and conditioning with the first team.
"I do enjoy that side of it and there's nothing to say I can't combine that with some of the training and coaching next season.
"It's always good to have a few strings to your bow because it adds more in terms of what you can offer clubs."
After their promising first seasons with the club, McCracken is also looking forward to helping Brown and Robertson develop further next term.
"There's still a lot more to come from them," he said.
"From the beginning of last year until the end of the season the two of them are completely different players now.
"They have come on leaps and bounds in terms of their confidence and positional sense.
"There's a lot of stuff I'm trying to drill into them about communication and organisation which ultimately can make their job a bit easier.
"It's about trying to improve their strengths as well as their weaknesses.
"The two of them I think are great prospects.
"They're big, strong boys who are also comfortable on the ball and that bodes well moving forward."