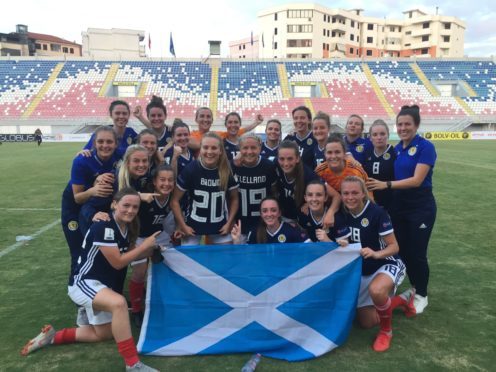 Aberdeen's Rachel Corsie didn't know "what to do" as Scotland's women's place at the "pinnacle of football" – the World Cup – was confirmed.
Shelley Kerr's team won 2-1 in Albania last night and, with rivals Switzerland only able to draw 0-0 in Poland, the Scots topped their qualifying group by two points to make it to France next year.
Scotland have never qualified for the women's World Cup before and captain Corsie, who is from the Granite City but plays her club football for Utah Royals in the United States, said: "This is by far the best moment in my career. The World Cup is the pinnacle of football and to have the opportunity to go over there and be on that stage with the best teams in the world is going to be incredibly special.
"The Switzerland game (2-1 win in Paisley last Thursday) shows how many fans are interested in the women's national team so now it's about building and growing over the course of time.
"When teams are winning and doing well, the fans want to support you so to get to two consecutive tournaments is huge and the World Cup is the biggest stage of all so I'm sure there will be a huge crowd over in France and that's something for us to look forward to.
"I'm so incredibly happy for every single one of the girls who've played their part. We've been fantastic and now we've set ourselves a benchmark. There's a unity about us that we maybe haven't had in the past and we've added a lot of quality young players to create a really strong group."
Mintlaw's Kim Little opened the scoring early in Albania as the Scots dominated, with Erin Cuthbert also a stand-out, but the home side levelled on the brink of half-time.
Any chance of Kerr's side missing their chance at glory was put to bed when Jane Ross restored their lead with a header.
There were triumphant scenes when news of Switzerland's draw filtered through. The Swiss would have condemned Scotland to the play-offs had they won.
Corsie said: "At the final whistle it was hard to know what to do. It was just an incredibly surreal feeling. The girls deserve it as there's been so many key moments in this campaign that have shown what we're about.
"We need to enjoy that and we will because we deserve to.
"We were extremely disappointed to lose the goal before half-time as it was extremely sloppy and unnecessary, putting us under a little bit of pressure, but that's typical Scotland.
"We always felt comfortable in the game and we created more than enough chances to win it. We knew that second goal was coming and we believed that it would. We persevered and once we got it we controlled the game well."
Head coach Kerr, who thinks there is now no doubt about how good her team is, said: "I knew it would be a hard game for us and I'm so, so proud of them.
"For everyone – the girls, the game in Scotland, the Scottish FA, all the clubs who have put hard work in and sportscotland.
"All the people who have been instrumental and their family and friends, because they commit. They give up so many things."
The Scots were on the front foot from the off, despite finding it difficult to pass on the dreadful surface.
It took just nine minutes for them to open the scoring.
With the Scots working the ball into the Albanian box time and again, Lizzie Arnot eventually nodded a cross down at the back post for Little to lash a right-footed volley home from 12 yards.
Scotland were in control, but couldn't extend their lead.
There was a sickener of a lesson in taking your chances on 44 minutes, when Albania's Megi Doci latched on to a ball in the Scotland box and finished low and left beyond Lee Alexander.
At half-time, both the Scots and Swiss were drawing their games.
After the break, Scotland were back to banging on the door, this time trying to get back in front.
On 68 minutes, Ross powered a close-range header from a free-kick past keeper Viona Rexhepi, who was moving the other way, to put the visitors into the lead once more.
And with Switzerland unable to score, and Scotland never at risk of losing their restored lead as they calmly ran down the clock, it was mission accomplished.