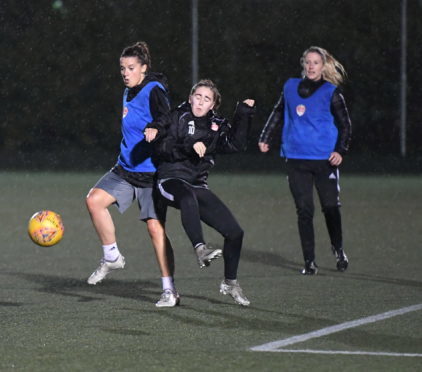 Aberdeen Ladies' "aim is to get right back into SWPL2" after their dramatic final-day relegation.
Needing to better the result of sixth-placed Glasgow Girls in the final round of fixtures, the Granite City team hammered Hearts 4-1.
However, Glasgow breezed by already-relegated Central Girls Football Academy 9-0 to send the Reds down by a point – their second consecutive relegation.
Aberdeen Ladies chairman Phil Sainsbury thinks a "hugely disappointing" start, and a period of coaching turmoil which followed it, stacked the odds too heavily against them.
He said: "We (the board) are partly to blame. We dispensed of our first-team coach Stefan Laird in April-May time and didn't realise it would be so difficult to get somebody in.
"They're all volunteers and you're asking them to take training two nights a week and be away all day Sunday.
"We spoke to plenty of candidates, but a lot of them were tied to junior clubs and there are expenses and bonuses built in. And that's not something we can offer as a grassroots club.
"We've never really been faced with that situation before."
Adding to the club's difficulties was a nine-point deduction, eventually reduced, for fielding an ineligible player.
Aberdeen Ladies will start next season in SWFL Division One – North alongside fellow north-east teams Cove Rangers, Buchan, Westdyke Ladies, Deveronvale Ladies and Dee Ladies – who were saved from the drop as Aberdeen Ladies Under-23s must now drop into Division Two – North.
This technicality is good for Stonehaven Ladies, second in Division Two, who have now been promoted.
If Aberdeen Ladies don't come straight back up, their status as the region's premier side is under threat.
The club, who are a separate entity from Aberdeen FC – although the men's club did assist in their appeal against the points deduction – have been victims of a talent drain in the north-east game.
Their squad pay to play and the most talented are easily poached by Scottish giants like Glasgow City and Hibernian Ladies, as well as by the Scottish FA's elite performance academies and other sides down south.
However, there's cause for optimism Aberdeen Ladies can bounce back.
Sainsbury said: "We ended the season with the strongest squad we've had for a few years. The aim is to get right back into SWPL2 and push it on from there."
He added: "The girls have done terrifically well since the start of August. We got 17 out of 24 points, which is a good return."
Although who will be head coach going forward is still "in limbo", Sainsbury was also full of praise for volunteers from Aberdeen FC, including youth player Ryan Harrington – currently on loan at Montrose – and coach Cameron Campbell, who helped turn results around.
Sainsbury said: "We went to Aberdeen FC in the summer and said 'look, we're in a wee bit of a mess', because we lost five senior players in the summer as well, three to clubs down south, and we knew we were going to have to operate with 15 and 16-year-olds. It's a big ask.
"Ryan (Harrington) has always helped out because (player) Lauren Gordon is his girlfriend.
"He'd spoken to Pittodrie and asked if they'd mind if he helped out.
"But Aberdeen also put out an e-mail to all of their coaches and four expressed an interest. Cameron Campbell was really keen and it fitted round his schedule better.
"From his first training session it was fantastic and the girls took to him. There was a better structure and tempo to it.
"Cameron then moved on to head up an academy for a Danish club.
"Ryan took over for the last few games and did a good job, too."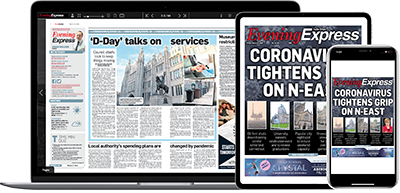 Help support quality local journalism … become a digital subscriber to the Evening Express
For as little as £5.99 a month you can access all of our content, including Premium articles.
Subscribe