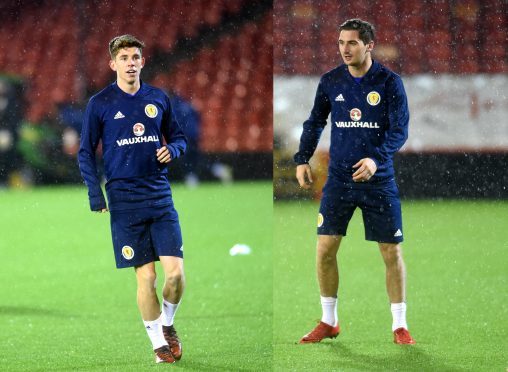 A lack of respect, wide of the mark and received like "water off a duck's back" – interim boss Malky Mackay today hit back at Kris Boyd's criticism of Aberdeen's international call-ups.
Kilmarnock striker Boyd launched a scathing attack on the selection of Graeme Shinnie, Kenny McLean and Ryan Christie for tonight's friendly against Holland at Pittodrie.
Former Scotland cap Boyd branded the trio's Scotland selections a "laughing stock", claiming they were only called up to sell more tickets for the Granite City fixture.
McLean and Christie will both start tonight.
Interim national boss Mackay came out fighting for the Dons trio insisting they deserve respect and are in the squad on merit.
He also insisted he would NEVER pick players to boost ticket sales.
Asked about Boyd's comments, Mackay said: "These are professional footballers who go out every week and they deserve respect.
"They are Scottish players performing at the top end of Scottish football with their club and they are now being given a chance.
"They deserve respect. Derek McInnes has Aberdeen as the second best team in the country and the three I've picked have been outstanding on a consistent basis. They're hungry and talented. "
As he met with the press before taking the squad out for a training session on the Pittodrie pitch, Mackay was confident Boyd's criticism would have no negative impact on the Dons trio.
"Absolutely not," he said.
"I don't see them being affected. It's water off a duck's back.
"I've not felt the need to speak to them. It's part of the whole thing."
For Mackay "part of the whole thing" as a pro footballer is inevitably criticism, whether that be from the unlikely source of a fellow player in Boyd or social media or fans.
Like it or not, the ability to deal with that flak is as fundamental to the make-up of being a successful professional as the ability to turn a game.
He said: "There are remarks footballers have to deal with all the time – in the media, on radio, on TV, on social media – that are disrespectful. It depends how much they want to read it, how much they want to take in and how much they want to let go.
"But invariably it really only matters what they think and what their manager thinks.
"That is how people have football careers. By being strong-minded. I don't know a player in the world who hasn't had criticism.
"It is how you deal with it.
"If you deal with it in a way that parks it as you think 'It's not actually relevant to me because I know what I'm doing and my boss is telling me this and I'm playing every week' then you'll be fine."
Asked if Boyd's attack would fire up McLean, Shinnie and Christie, he said: "It is not about proving people wrong.
"They don't go out to prove people wrong – they go out to make sure they impress their manager, their family and in this case me and my staff.
On Boyd's accusations, the Dons trio were only in the squad to boost ticket sales at Pittodrie, currently standing in excess of 15,000, he was equally defiant.
"Anyone who knows me is aware I'm never going to put a team out on the pitch to sell tickets," he said.
Asked if there was any pressure from the SFA to select certain players, he said: "Trust me, that's not something that was an issue.Honestly, there's no way that was the case.
"They're in the squad to play, not sell tickets."
Previous boss Gordon Strachan handed just one cap to a Don, McLean, in his five years in charge.
Mackay will hand starts to two Dons tonight.
He said: "Two out of the three Aberdeen boys are going to start… Kenny McLean and Ryan Christie."
Former Aberdeen midfielder Ryan Jack, now at Rangers, will start tonight at right-back while skipper Scott Brown is ruled out through injury.
"Unfortunately Scott Brown is injured," he said.
"He has had a recurrence of something we have been nursing him through and won't be able to play."
On the nature of the injury, Mackay was non-committal, insisting: "That is something you will have to go to Celtic and find out."
There are concerns that Jack could receive a hostile reception from some Dons fans on his Pittodrie return following his controversial transfer from Aberdeen to Rangers in the summer.
On Jack, Mackay said: "Footballers have to deal with everything everywhere they go.
"He is not the first player to go back to his home town.
"What I would say it is Scotland that's here, not Aberdeen – there will be a lot of Aberdeen fans here, but it is Scotland here.
"And I would love Scotland fans to cheer Scotland players."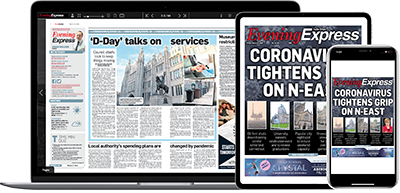 Help support quality local journalism … become a digital subscriber to the Evening Express
For as little as £5.99 a month you can access all of our content, including Premium articles.
Subscribe