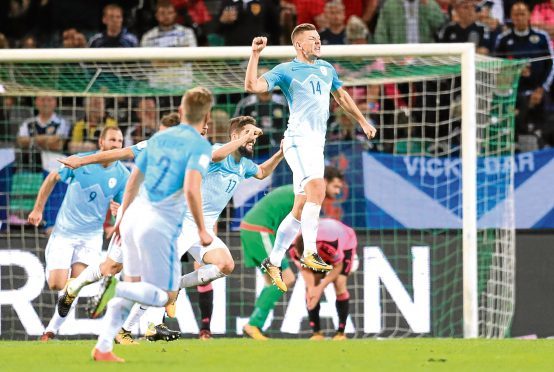 There were more than a few raised eyebrows when manager Gordon Strachan attributed Scotland's World Cup qualifying failure to a lack of height in his team.
But is there any substance to his claims, which could easily be viewed as the excuses of a boss whose national side were 45 minutes from edging closer to major tournament football for the first time in 20 years?
In Ljubljana on Sunday, the Scots found themselves 1-0 up and in control of their destiny after Leigh Griffiths' clinical cross-goal volley, but a passive second half display saw them 2-1 down in the blink of an eye.
In case you missed it, after the 2-2 draw which left the Scots third in their qualifying group and out of a play-off place, Strachan said: "Genetically we are behind.
"In the last campaign we were the second smallest apart from Spain (who won nine of their 10 games ahead of Euro 2016 – the campaign in question – as well as two Euros and a World Cup in the last 10 years.)
"So that means we had to pick a team against Slovenia where we had to try to combat their height and strengths.
"Even at that we couldn't combat their height and strength at set-plays.
"Genetically we have to work at things."
He added: "But it is a problem for us because we have to fight harder for every ball and jump higher than everybody else because it is easier for these kind of guys.
"Nobody tell me Slovenia's technique apart from one guy is better than any of ours.
"But physically the teams we have found over the last couple of years, physically we have a problem with that.
"We seem to be able to fight it, battle it and get through just on sheer determination, skill and workrate.
"That takes a lot out of you and that is what happened against Slovenia."
Strachan was right when he said Slovenia were taller than Scotland, with an average height advantage of 4cm.
Scots keeper Craig Gordon was the tallest player on the pitch.
Barry Bannan and Leigh Griffiths (170cm and 175 respectively) were among the shortest players on the pitch, with the Slovenians' Jan Repas their shortest at 171cm.
So is Scotland's height holding them back?
It didn't in France '98 when a team with the same average height came within quarter of an hour of drawing with Brazil.
Furthermore, when Wales beat Georgia 1-0 in Tbilisi on Friday, their average height was the same as Scotland's against Slovenia.
This is, of course, the away trip and reverse of the result which dealt a hammer blow to Strachan's men's Euro 2016 qualification hopes.
If height is so significant, as a Northern European nation, Scotland should stand head and shoulders above Southern European nations they've avoided in major tournament qualification of late, like the Spanish, Italy and Portugal.
Dr Johnathan Pettitt, an expert in genetics at the University of Aberdeen, said: "80% of height is down to genetics. The remaining 20% is down to nutrition and healthcare.
"If you take the Dutch (who are also missing next year's Fifa showpiece), they are the tallest on the planet, but in 1850 they were the shortest.
"The only thing that's changed is the environment.
"Northern Europeans tend to be taller than Southern Europeans.
"Nutrition is going to play a good part. We want to get nutrition right from birth."
If Strachan really considers the height of his players the source of the national side's perpetual shortcomings, maybe he could select players he has often been criticised for not choosing and playing.
Ryan Christie (178cm or 5ft 10), Graeme Shinnie (175cm or 5ft 9), Callum McGregor (180cm or 5ft 11) and Fulham's Kevin McDonald (188cm or 6ft 2) are midfielders capable of playing in Bannan's position, with a distinct height advantage.
Instead of genetics, Scotland could look to improve their stats – they were second-best in possession, shots and corners on Sunday.
This is perhaps of more significance than whether the players are taller.