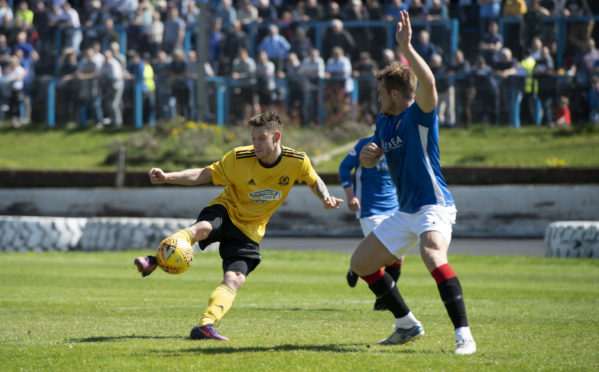 Cove Rangers fell short in their quest to enter the Scottish leagues after a baffling decision saw them fall 3-2 to Cowdenbeath in their League Two play-off final second leg at Central Park.
The tie was poised at 0-0 after the first leg at Harlaw Park.
Cove got off to a bad start, conceding an early penalty which Harvey Swann fired past Stuart McKenzie after Alan Redford brought down Robbie Buchanan.
It looked a hammer blow, until Cove went straight up the other end and equalised three minutes later.
As they loaded the Blue Brazil box , skipper Eric Watson nodded the ball forward for Mitch Megginson to fire a header into the far bottom corner.
It was his 51st goal of the season.
Soon after, Megginson made it 2-1.
Paul McManus received the ball and charged down the right to fire an inch-perfect centre to Cove's talisman, who by this point had sprinted to the penalty spot to volley into the left bottom corner past the diving David McGurn.
After the break, a Swann free-kick from the left trundled past everyone including McKenzie to level the scores.
However, what happened next was baffling.
How the linesman missed Stuart McKenzie being cleaned out by Jordyn Sheerin after a clearance is a mystery, but it allowed Brad Smith to fire the loose ball in from 40 yards, despite the best efforts of the keeper to get back.
In horrible, unsporting scenes afterwards, the Blue Brazil players stood taunting the Aberdeen team's fans.
Following this goal for Beath on 71 minutes, foul after foul was awarded by referee Steven Kirkland, many appearing soft, allowing the desperate Cove no way back into the game.
The mood of the game's ending was epitomised as McManus was handed two yellow cards in quick succession for dissent.
With 96 minutes played, Harry Milne headed a Cove corner over the bar, before the game descended into pandemonium.
Both team's coaching staff and benches were on the pitch as players pushed and shouted at each other near the Beath dugout.
In the aftermath, Scott Ross and Eric Watson were sent off for Cove, reducing them to eight men.
Gary Bollan and John Sheran, the teams' managers, were ordered off too, while Milne received a booking for his part in the fracas.
Teams:
Cowdenbeath: David McGurn, Fraser Mullen, Harvey Swann, Jamie Pyper, Bryan Gilfillan, Kyle Miller, David Cox, Blair Malcolm, Jordyn Sheerin, Brad Smith, Robbie Buchanan.
Subs: Ben Reilly (Cox 70), Scott Rumsby (Miller 90), Brandon Luke (Gilfillan 90+2).
Subs not used: Blair Penman, Jordan Hornby, Brandon Luke, Mark Fotheringham, Cameron Muirhead.
Cove Rangers: Stuart McKenzie, Alan Redford, Harry Milne, Scott Ross, Eric Watson, Darryn Kelly, Ryan Stott, Connor Scully, Mitchel Megginson, Paul McManus, Jamie Masson.
Subs: Jonny Smith (Masson 60), Dean Lawrie (Redford 76).
Subs not used: John McCafferty, Sam Robertson, Ryan Strachan, Daniel Park.
Referee: Steven Kirkland.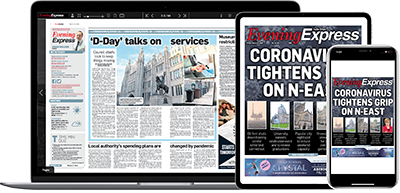 Help support quality local journalism … become a digital subscriber to the Evening Express
For as little as £5.99 a month you can access all of our content, including Premium articles.
Subscribe