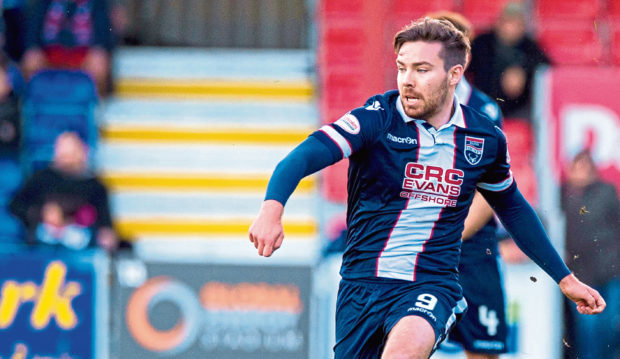 Ryan Dow hopes it will be happy families for him at Peterhead.
The Ross County midfielder today joined the Blue Toon on a loan deal until January.
Dow knows Balmoor boss Jim McInally particularly well as he is married to McInally's daughter Nicola.
The 27-year-old has chosen to go out on loan after falling down the pecking order with the Staggies and hopes father-in-law McInally can get him back to his best.
Dow said: "With the transfer window shutting if I was wanting to go out on loan it had to be to League One or League Two.
"So I had to make the decision to go out or sit until January really not playing because I haven't been playing in the last few weeks.
"I spoke to Jim and I decided it's better to go out and get games rather than sit about.
"It's always going to help knowing Jim and knowing how good a manager he is.
"Knowing that, I thought if I was going to go out it was only going to be to Peterhead in League One or League Two.
"So that was a factor and I feel like he can get me back playing football and enjoying it again.
"Those are the main reasons behind it, to get playing again rather than get told you're a good player but not play."
Dow started his career with Dundee United before joining Ross County in 2016.
However, he has endured a frustrating period at the Global Energy Stadium and with no assurances of regular game time from co-managers Stuart Kettlewell and Steven Ferguson, he has chosen to go out on loan.
He added: "I don't feel like I've got anything to prove to anyone, but the last few years have been difficult for me.
"I need to start playing football again because it's been frustrating in the last few years not playing as much as I would like.
"Hopefully making this move will get me game time again.
"It's about getting games and taking it forward because I came back for this season and felt really sharp and was buzzing to go.
"But in the last couple of weeks it's turned out that I might not get the game time I want so I've had to make the decision to go and hopefully start playing and enjoy playing football again.
"I know of the guys in the squad and I know they are good players.
"I've gone to games in the past with Jim and I know they are a good group of players and I'm looking forward to getting started. I'm concentrating on helping Peterhead do well and getting myself a bit of form, those are the main reasons behind it."
Peterhead boss McInally is delighted to have signed Dow and believes the move can benefit the player and the club.
He said: "The family connection has helped and is a big factor because that's partly why he's been at Peterhead games.
"But at the end of the day if he divorced my daughter I would still want to sign him.
"But there have been other factors. Simon Ferry spoke to him and told him that he would enjoy his football with us.
"Ryan has had a really good pre-season and he wants to benefit from that with us. He doesn't feel coming on as a sub is what he wanted to do. He's putting his neck on the line a bit by wanting to show people that he can play.
"If his spell with us does kick-start his career we will massively benefit from that.
"If he plays as he can then he will do really well for us at this level.
"He'll hopefully bring the creativity and a bit of pace to our team. He dribbles well and he has a good football brain so he will bring a lot to us.
"From the club's point of view, we got lucky to a certain extent that he knows our set-up because he spoke to three or four other teams."