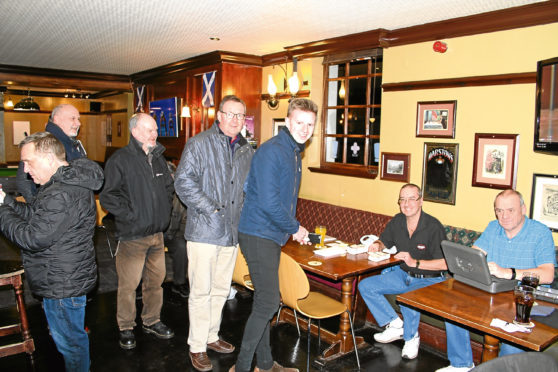 Cove Rangers skipper Eric Watson knows his playing days are numbered.
But he wants to achieve two career high points before he hangs up his boots – starting on Saturday.
John Sheran's team meet Championship Falkirk in the Scottish Cup fifth round at Harlaw Park this weekend.
It is the furthest the club have been in the national trophy, with a place in the quarter-finals at stake.
During a season where they are romping to the Highland League title, this could also be the year dynamic, goal-happy Cove join the SPFL ranks through the play-offs, with their new home, Balmoral Stadium, also under construction at Aberdeen's Calder Park.
At 35, centre-back Watson is in the most pivotal season of his career and he isn't quite ready to quit, making sure his team-mates are well aware of what is at stake.
He said: "It's been spoken about for a few seasons now, but you never know.
"I'm still playing every week and feel relatively fit, injury-free and obviously it's the club's ambition to get into the Scottish league.
"If we did that it would be a great way to finish off my Cove career, to play one season in that league.
"We'll reassess at the end of the season, see where the club are and take it from there.
"(With the Scottish Cup), this could be the last chance I get to do this and I say to a lot of the younger guys that even they might not (get to do it again).
"I just make sure they're well aware it could be the only time they play a game of this magnitude, in the fifth round.
"I'll be saying it on Saturday to make sure they do themselves justice, rather than lying down and having a lot of regrets."
Now thoughts have turned to the visit of the Bairns, Watson was honest about the threats Paul Hartley's team pose to Cove – so used to having the majority of possession and scoring for fun this season.
He knows a giant-slaying against the on-form eighth-placed Championship side could hinge on who wants it more, a good bit of fortune and the Harlaw playing surface.
Watson said: "We got back into training on Monday night. We did a light session and all eyes have turned to Saturday.
"We had to get our two games against Formartine out of the way first. Falkirk are a full-time team with some good players, a good manager, but you never know.
"We'll have to have a very good day and Falkirk would have to have an off day. You can never say never.
"We're certainly going in there believing we can possibly get something out of the game.
"I think they play on an astro turf pitch and there was word of the game possibly switching to Forfar or Montrose, but I'd have thought that would have given them the upper hand.
"Getting them up at Harlaw Park on the grass – the pitch is in relatively good condition for the time of year – that'll give us a better chance."
Watson, who lives in Laurencekirk and is a travelling sales manager for a heating company during the week, thinks, minor tweaks aside, it'll be difficult for Cove to make wholesale changes to their normal style.
He said: "The way we play football now is to get the ball down and play.
"I don't think we'd be able to change the way we play for one game, although we possibly will go more direct at times.
"When you come up against full-time strikers, you don't change the way you play. But they, with how good they are, they always make space for themselves and look like they're in space.
"I'm not going to be trying to give them any more space, that's for sure. But they're a wee bit quicker, sharper, fitter, so they will look like they're in space a bit more. but certainly not due to us standing off them.
"That'll be part of the game plan, to get right up in their faces and give them as little time as possible to knock the ball about."
Watson, who is set to be supported from the sidelines by his wife and three kids, including son Finn, who he revealed is football daft, believes his team are fit enough and possess enough quality to hurt Falkirk, if they can create the opportunities.
He said: "If we can then get the ball up the park into Mitch Megginson's kind of areas, he's come up against this standard of player and he's as quick as anyone.
"The likes of Ryan Stott as well – we've got the pace.
"Often with these full- time teams, they're quicker, but our attacking players at the club just now will be as quick as any of their defenders.
"So I'm sure we will cause them trouble if we can get them turned, facing their own goals.
"We're a very fit team. Some of the midfield guys are as fit as anyone I've played with at Cove.
"We'll have to save our energy to press at the right times and be as compact as we can to stop them playing.
"Hopefully, if we can do that as a team, we won't run out of gas before the end of the game."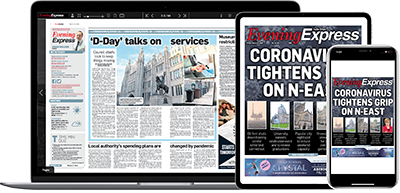 Help support quality local journalism … become a digital subscriber to the Evening Express
For as little as £5.99 a month you can access all of our content, including Premium articles.
Subscribe