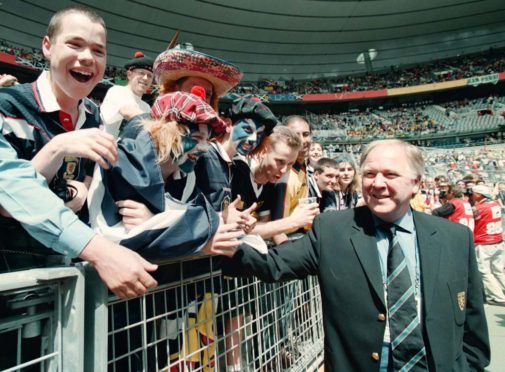 Twenty years ago Scotland were at the epicentre of global football as they kicked off the World Cup in front of an audience of two billion.
Facing holders and tournament favourites Brazil is the biggest game Scotland have ever been involved in.
Such was the magnitude, then British Prime Minister Tony Blair was helicoptered in to the Scots' hotel base on the eve of the game to wish them good luck.
Scotland were bang at the heart of the beautiful game with the world watching.
Brown defused the situation with some humour, by telling his squad the Brazilians were terrified of the Scots – as they were holding hands.
He said: "I saw the Brazilian team going out and they had a history of walking hand in hand.
"They lost a game in Bolivia at altitude and when they faced them back in Rio they were determined to win that match.
"Before kick-off Dunga went round shaking and holding everyone's hands in the dressing room.
"Dunga was the Brazilian captain and said why don't they go out like that to show the unity of the team?
"Brazil beat Bolivia 5-1 and it became tradition that they walked out hand in hand.
"I saw them come out of their dressing room just before us.
"So I went into our dressing room and said 'guys – I have just seen Brazil holding hands. They are terrified'
"That was to relax them."
Scotland had been based at a training camp in Saint Remy de Provence in Southern France.
On the eve of the Brazil clash they moved to Chantilly in the north.
If any player harboured doubt about the enormity of the game it will have evaporated amid the whirr or helicopter rotors.
Brown said: "The day before the Brazil match the Prime Minister Tony Blair came to visit us and arrived by helicopter.
"The security was incredible but he had a chat with all of us and his knowledge of the game was very good.
"He is a Newcastle United fan and Kevin Gallacher was playing for them at the time.
"So he had a very good chat with him."
Brazil opened the World Cup as holders having triumphed in USA four years earlier.
They boasted the best player in the world at the time in Ronaldo, a three-time Ballon d'Or winner.
Brown had previously phoned Bobby Robson to ask him how to play against his former player Ronaldo, who he had managed to European Cup Winners' Cup glory the previous season at Barcelona.
Ronaldo was just one star in a squad packed with world class operators like Rivaldo, Emerson, Roberto Carlos, Dunga and Cafu.
Brown said: "The main job against Brazil was to make sure Ronaldo didn't score. He was a world star at the time.
"So we cut off the supply to him.
"A lot of it came from Cafu and we made sure Christian Dailly didn't allow Cafu to put a pass into the striker.
"If he passed it he had to pass it up the line so Cafu wasn't getting to the danger man Ronaldo.
"I watched Brazil nine times and we had very good organisation and team spirit.
"They say it is the biggest game Scotland have ever played with 115 countries watching and two billion on television."
With the world watching Scotland fell behind after just four minutes when Cesar Sampaio scored a header from a set-piece.
It was particularly galling for Brown who took pride in the organisation of his side at dead balls.
Their defensive record in qualifying for both France '98 and Euro '96 were testament to that.
He said: "We couldn't get out on the pitch for a warm-up because the World Cup opening ceremony was on.
"So we had to warm up indoors and even our keeper Jim Leighton had to handle the ball indoors.
"He never got outside before the game to practice for crosses and shots.
"It was the same for Brazil, though.
"In 10 qualifying games we had only lost three goals and only two of them were from open play.
"It was the same with Euro '96, we lost three goals in 10 games to qualify.
"We had a brilliant defence anchored by keeper Jim Leighton.
"A brilliant back three of Colin Calderwood, Colin Hendry and Tom Boyd who were unbeatable.
"There was a strong spirit in that team. Even the substitutes who weren't getting a game were all part of the squad and we made them feel part of it.
"I was proud of the way they battled back after going behind to Brazil."
Scotland refused to buckle at the Stade de France. They fought back in the biggest game in the nation's footballing history.
Gallacher won a penalty in the 38th minute and in front of a capacity 80,000 crowd John Collins held his nerve to fire into the corner beyond Claudio Taffarel.
There was to be heartache, though, as an unfortunate own goal from Boyd with 17 minutes remaining denied the Scots a famous result.
Scotland would go on to draw 1-1 with Norway before losing 3-0 to Morocco.
Brown said: "We should have beaten Norway, we deserved to win that.
"The score against Morocco sounds terrible but we were down to 10 men after half-time when Craig Burley was sent off for a tackle from behind. We were trying to get a goal back with 10 men which left us a wee bit exposed.
"I had 71 games with Scotland and that Morocco game is the biggest defeat I ever had. There were extenuating circumstances as we were chasing it.
"They were unusual, uncharacteristic goals for us to concede as well.
"The World Cup in France was a terrific experience but it would have been better if we had qualified out of the group."
This summer, as with so many since '98, the Scots are on the outside looking in.
Although they failed to reach the knock-out phase Brown insists his squad served their country with pride. "I was very proud of that team as they represented Scotland properly. We also qualified for two consecutive tournaments as we were also at Euro '96.
"Even when we went behind to that early goal we fought back bravely.
"That World Cup, and the game against Brazil, was a proud time for Scottish football."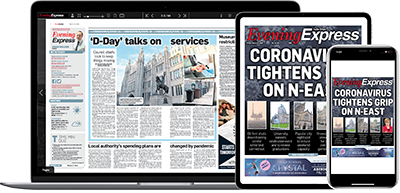 Help support quality local journalism … become a digital subscriber to the Evening Express
For as little as £5.99 a month you can access all of our content, including Premium articles.
Subscribe