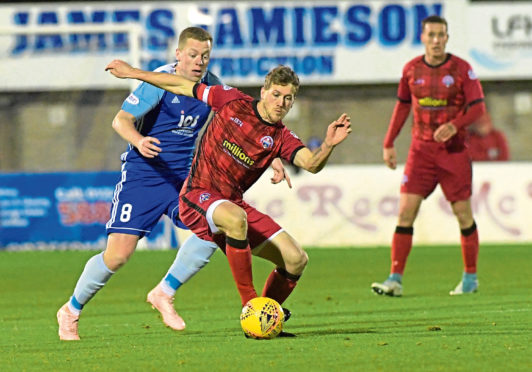 Scott Brown says missing out on going top of League Two on Tuesday will motivate Peterhead to crank up the pressure on Edinburgh City.
The Blue Toon drew 1-1 with the capital team at Ainslie Park.
The stalemate means the Buchan team remain two points adrift of James McDonaugh's men at the top of the table.
On Saturday Jim McInally's team play Cowdenbeath at Balmoor.
Midfielder Brown wants to keep winning – starting with the Blue Brazil – to keep the pressure on Edinburgh.
The 24-year-old said: "Not going top on Tuesday does motivate us.
"We know in this league we need to try to win every week.
"Edinburgh have done really well and have been doing that. They had spells on Tuesday and so did we.
"We know they're not going to lie down – but neither are we.
"First and foremost we need to win on Saturday to keep things going.
"We lost the chance to go top but we'll try to do it on Saturday.
"We play Cowdenbeath, they play Elgin which can be a tough game.
"But we are still just looking at ourselves because there are still 21 games to go and we've still to play Edinburgh twice.
"Nothing is dead, even Clyde in third are not out of it so we need to make sure we keep winning – that's the main thing for us."
Brown wants to take positives from Tuesday's draw and added: "We can take confidence because we went down there and to be disappointed with a draw shows where we are.
"It's disappointing not to go top of the league but it's up to us to get there over the course of the season.
"We are not even halfway through yet so there are still lots of games to go.
"The gap didn't get any bigger but I felt the win was there for the taking."
Brown felt Peterhead deserved all three points against title rivals Edinburgh.
However, the former St Johnstone player was left to rue fine margins as ex-Blue Toon man Allan Smith burst away from Willie Gibson down the right before squaring for Blair Henderson to equalise.
Brown said: "I think we did deserve to win it on Tuesday. It was an even first half, we had a flurry at the start but then they came back into it.
"But I felt we came out at the start of the second half and did really well. We scored the goal and when we are ahead we need to make a clever decision.
"Allan Smith created their goal and we need to ask could we have fouled him on the halfway line?
"I'm not going to point fingers at anyone but these are the things that cost us.
"Willie Gibson was playing out of position for us at left-back and has done brilliantly so it was just unfortunate the goal came down his side.
"I felt we were on top and it's unfortunate and towards the end we just huffed and puffed a wee bit."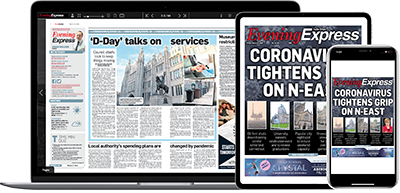 Help support quality local journalism … become a digital subscriber to the Evening Express
For as little as £5.99 a month you can access all of our content, including Premium articles.
Subscribe