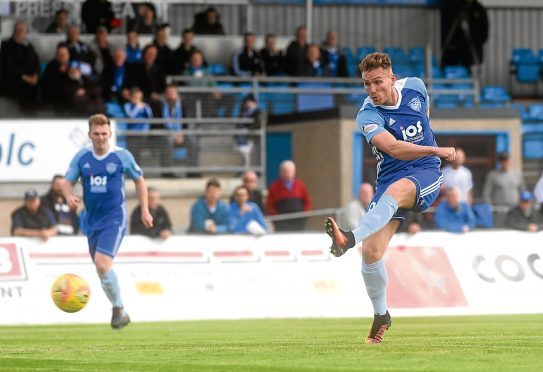 Peterhead manager Jim McInally has revealed he has funds available to strengthen his squad in the January transfer window.
The Blue Toon are attempting to earn promotion back to League One this season and boss McInally will be given money to spend in the new year to help bolster their title hopes.
The Buchan outfit, who are second in League Two after Saturday's game at Berwick Rangers was postponed due to a frozen pitch, would like to bring in another defender.
McInally has already invited 20-year-old Stranraer defender Tom Lang to train with them.
He said: "Mikael Ngango Diboko finishes up in two weeks and he'll be leaving. So I think we need a defender and that's why I've invited Tom Lang in to train, because we do need somebody else in that area of the park.
"I'm just looking at the defence generally. Mikael is an out-an-out left-back, so I'm looking at somebody just to give us a bit of cover.
"Our discipline has also been good this year, we haven't run into suspensions yet.
"But there comes a time when that will catch up with you as well.
"We're still in the market and we haven't used any of our loans yet either.
"It would be great if you could get through the season without doing it.
"And in an ideal world we won't do it. But you never know what can get thrown up at you sometimes.
"You just need to be on guard and we have kept our powder dry with loans, so we are open to seeing who is available once the window opens.
"We'll definitely look to strengthen if we can – but we won't do it just for the sake of it."
McInally already has room in his squad with midfielders Scott Adams and Samson Gabriel out on loan.
He also plans to send injured midfielder Marc Lawrence out on loan to get game time when he returns to fitness.
McInally hopes that Peterhead may be able to get an edge on their rivals by bringing in some new faces in January.
While targeting a defender, McInally is also open to strengthening in midfield and attack if he gets the chance.
He added: "I know a lot of teams will have used a lot of their loan spaces up, so that will limit them in terms of how much they can bring in.
"But everyone is looking for the same thing at times. Everybody always wants a goalscorer and we're lucky we've got one in Rory McAllister.
"But if anyone else came up in the forward area then if you look at our other strikers they are quite young.
"Russell McLean is 19 and Alan Smith is 23, so another forward could be useful. I would take a midfield player as well if they are going to improve us, so I'm pretty open to bringing a couple in."