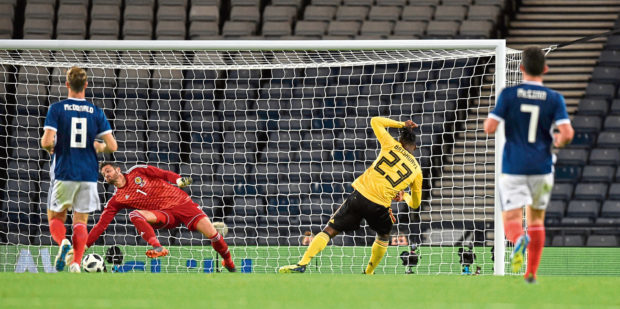 After the heaviest home defeat in 45 years boss Alex McLeish remained defiant, insisting Scotland may be down – but they are not out.
Scotland suffered a damaging, and potentially demoralising, 4-0 hammering to World Cup semi-finalists Belgium at Hampden.
Yet it was not Belgium's brilliance that led to most of the goals but the Scots' kamikaze defending.
Scotland's third straight loss was the worst possible preparation for McLeish's first competitive game in charge – against Albania on Monday.
The national boss insists he takes all the blame for the defeat after telling his players to stick to a passing game.
McLeish must now pick up his squad to face the Albanians in a UEFA Nations League Group C 1 qualifier at the national stadium.
He said: "We took a beating. We are down but certainly not out and we will be buzzing again.
"The guys are gutted to lose the goals and make the mistakes they did.
"You have to tear your hair out at the goals as they were gifts.
"At this level against a team of Belgium's stature the consequences of mistakes are devastating.
"Sometimes at club level you can do that four or five times and still get away with it.
"But at this level the consequences are terrible."
Defensive errors while under no pressure from John McGinn, Charlie Mulgrew and Ryan Jack each led directly to a goal.
Although frustrated at conceding McLeish refused to slate his squad because the mistakes came because the players were utilising his passing philosophy.
He refuses to ditch that and his principles to go route one just because of a heavy defeat.
He said: "We know we are not up at Belgium's level but there is a lot of ability there (within Scotland).
"It was a catalogue of errors in the second half but if anyone is to take the blame it is me for telling them to pass it.
"I know how good Charlie Mulgrew is at passing the ball but he was just caught out with his vision and didn't catch it fully.
"Ryan Jack was caught with the ball and for the first goal John McGinn turned into Mousa Dembele and it is fatal when you don't know what is behind you.
"They were harsh mistakes. And they will learn from them.
"I praised them as they did a lot of good things. They passed the ball well at times and we cut through Belgium to create three of four chances.
"There is no way they should be down-heartened. They should be heartened with the way they tried to play.
"I don't want them to just lump it up the pitch.
"We have to use the ability we have with the ball at our feet."
Since taking over the reins from Gordon Strachan following the failed World Cup 2018 bid McLeish has lost four out of five games.
A victory in Hungary is the only success of his second period in charge of the national team. Under McLeish the Scots have failed to score in defeats by Costa Rica (1-0), Peru (2-0), Mexico (1-0) and Belgium.
In the Gothenburg Great's defence all those defeats have come against teams that competed in this summer's World Cup.
Scotland were thrashed by a Belgium side that never got out of first gear.
You wonder how damaging this defeat could have been if Belgium had really gone for the jugular.
The reasoning behind taking this friendly also has to be questioned.
If the SFA believed securing the World Cup semi-finalists would be a cash cow they were wrong as there were only 20,000 at Hampden. All it achieved was delivering a heavy defeat to a side preparing for a first competitive game under McLeish. On taking the friendly, McLeish said: "We have got to test ourselves and but for that first goal would probably have gone in at half-time all square.
"It was a very difficult game coming before Albania. But it is the start of the season and the players have full fitness so they can cope with two games in a short period of time if we have to put the same boys in again."