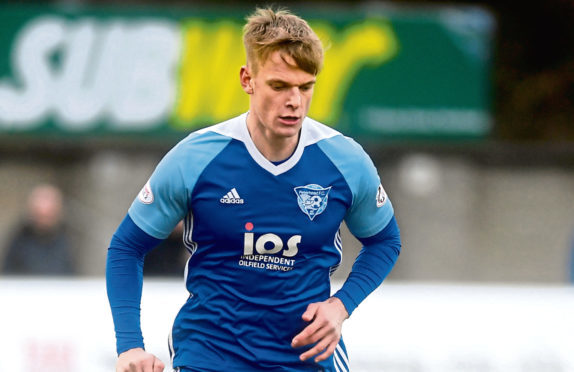 Peterhead's Jason Brown says he is enjoying the responsibility of being the club's senior centre-back at the moment.
With David McCracken now a player coach and summer signing Mick Dunlop injured, Brown, 22, has been playing at the heart of the Blue Toon's defence alongside Cameron Eadie, 20.
Having only missed one game last season Brown is the Buchan side's established centre-back.
Ahead of facing Albion Rovers tomorrow at Cliftonhill Brown says he is enjoying the responsibility of being the senior player at the back.
The former Inverness Caley Thistle player said: "It's good and I'm just enjoying playing.
"I'm enjoying working hard and doing my bit for the team.
"But we know we can all do a bit better and hopefully the results will come after that.
"Last year I felt it was a great year for me.
"I played a lot more than I thought I would, I did better than I thought I might when I signed.
"To play every game bar one was a great season for me and I enjoyed it.
"So that was why I stayed on to play games and push for the title with the club."
Peterhead started their League Two season with a 1-1 home draw against Queen's Park last weekend.
Brown doesn't think the Blue Toon are far away from getting to top form and hopes that will show tomorrow and over the coming weeks as they look to start the season well in pursuit of the League Two title.
He added: "It's still early days, it's one game in and we're still not where we want to be yet.
"But we've been taking small steps towards getting to top form.
"We've had another good week of training and hopefully that shows on Saturday that we are getting stronger each week."
Albion Rovers were relegated from League One last season and are much-changed for the new term.
Brian Kerr has been replaced by John Brogan as manager and the new boss has recruited a number of new players.
Many of the new faces have come from Junior football and Brown admits Peterhead do not know a huge amount about the opposition they will face tomorrow.
But he insists they won't take the Coatbridge team lightly in their pursuit of a first win of the campaign.
He said: "Regarding them, we don't know much about them.
"They've signed a lot of players that we aren't too familiar with.
"But we'll go there with the right attitude and trying come away with the right result."